Best Escape Rooms in San Antonio!
With so many escape room in San Antonio,are you lost to find your perfect escape? Look no further. Check these 10 must-do rooms for a mind-blowing time in San Antonio!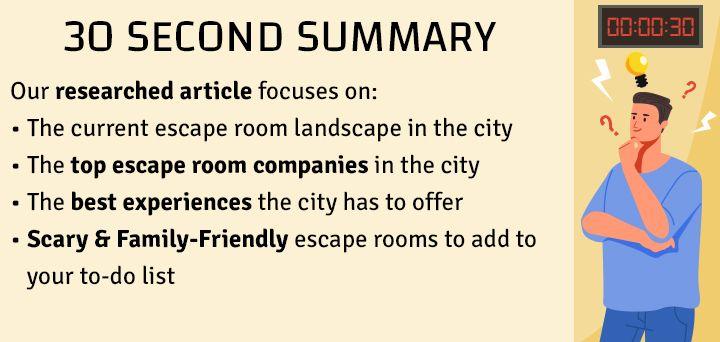 Escape Rooms are live-action team-based games. They have been rapidly gaining popularity all over the world! Not only do they provide an outlet for people to enjoy themselves and relieve their stress but they also provide game masters an opportunity to give a tangible form to their creativity and imagination. Escape Rooms are one of the best team cooperation activities, they not only bring people closer but let them depend on each other under strenuous situations. They are enjoyed by people of all ages and genders for they offer a little bit of something for everyone no matter what they're into.
San Antonio, officially the City of San Antonio, is the seventh most populous city in the United States, and the second-most populous city in both Texas and the Southern United States, with more than 1.5 million residents. It was the fastest-growing of the top ten largest cities in the United States from 2000 to 2010. San Antonio is also home to several commercial amusement parks, including Six Flags Fiesta Texas, Splashtown and Morgan's Wonderland, a theme park for children with special needs. This city caters to a massive number of tourists as well as locals with its amazing attractions and now escape rooms are some of the most famous ones.
We have compiled a list of 10 epic escape room experiences you absolutely have to try the next time you're in San Antonio and up for some good fun! We put in hours of work in with research, surveys, analyzing 5000+ reviews, and reaching out to the game masters themselves to make sure we put forward unerring experiences of the escape rooms to help you make the right choice. So if you want to take your imagination on a ride, Here are the top 10 escape room San Antonio.
Top Escape Room Companies in San Antonio
Escape The Room was established in December 2016. They have locations in cities across the US, all of which hold a rich history in entertainment and customer service. They offer fun and interactive games that include real-life puzzles.
Here are the adventures they offer in San Antonio:
Western Bank Heist: Enter the old wild west and rob a bank in 60 minutes.
The Dig: You are stuck deep beneath the earth in an excavation site! Escape in 60 minutes!
The Agency: Complete a covert mission in 60 minutes to prove that you are worthy enough to be a part of The Agency.
Extreme Escape is founded by the same team that brought famous Downtown San Antonio attractions like Ripley's Haunted Adventure. The escape company has created hands-on live adventures that guarantee immersion to the players. They run two successful locations in Colonnade and Stone Oak.
The establishment in Colonnade also sells puzzle-games and official merchandise that the players can take home as a memory.
Here are the games offered at the venue:
Mutiny: Captain Alex Issigonis has captured your group and accused you of mutiny! Can you escape in 60 minutes
Master of Illusion: You are locked in the workroom of a maniacal magician! You have 60 minutes before he makes you a part of his Illusion!
The Undead: Survive the Zombie Apocalypse! You have 60 minutes to find the antidote that can stop the infection.
Trapped Below: Find a legendary treasure in an elevator shaft. You have 60 minutes to go home rich.
Extreme Escape is founded by the same team that brought famous Downtown San Antonio attractions like Ripley's Haunted Adventure. The escape company has created hands-on live adventures that guarantee immersion to the players. They run two successful locations in Colonnade and Stone Oak.
Here are the escapades you can enjoy:
The Other Side: Paranormal forces have taken over an innocent town. Can you save lives in 60 minutes?
The Cursed: You are trapped in a cabin in the woods! Escape before the evil witch returns and captures your soul!
The Lost Tomb: Return the Mayan artifacts to the tomb to evade the impending doom!
Encounter: Defeat a carnivorous alien and restart your spaceship to return safely back to earth. You have a fleeting 60 minutes!
Komnata Quest was established in 2017. The escape company currently has 104 locations in 39 cities of the United States, Europe, and Russia. Each escape game involves unraveling the mystery of the room in an hour and finding a way out.
Get ready to click pictures with life-like props and costumes!
Here are the games you can choose at the venue:
The Impossible Murder Mystery: The murderer is behind bars, but his victim list is still ever-increasing! Can you crack the case in 60 minutes?
Saint Angelo's Castle: Escape from the dungeon where lost souls lurk! Can you break free in 60 minutes?
Doctor Frankenstein: There is a rift in the space-time continuum. Can you help Dr. Frankenstein fix it?
The Exit Game was established in 2015. The escape company's games are designed by professional game designers, organizational behaviorists, psychologists, mathematicians, and other field experts. They strive to provide a fun and challenging time for players of all ages.
Book an exciting 60-minute The Exit Game escape room:
Katherine's Asylum:Chapter 1: Katherine has escaped from the asylum! Investigate her room, find out where she is headed, and escape in 60 minutes!
Codename: Undead- Area 52: An experiment carried out by the government has gone wrong! Escape your quarantine and find the cure to the apocalypse!
Zodiac Killer: Legacy: Escape before the serial killer returns to his lair! You have 60 minutes before you meet a horrid death!
Sherlock Holmes: Parliament Games: Someone is plotting to destroy the Parliament! Complete Sherlock's investigation and become a national hero!
Best Escape Rooms in San Antonio
Tales of horror and tragedy envelop the infamous dungeon of Saint Angelo's castle. Innocent people who were preyed upon in the name of The Great Inquisition had been locked in this dungeon. Thousands of people became victims of the malicious intent of this chamber. But there's a strange rumour going around about this dungeon. It is said that instead of giving prisoners a last wish, they were given an opportunity to flee!
Anyone on a death row gets locked in this dungeon and they get one hour to figure out the puzzles of this room and possibly break out of the confinement! The prisoners are free to go if they can make it out, but only one person has ever succeeded! Benvenuto Cellini, widely considered as the greatest master of the jewellery craft. How did he make it out of the room? No one knows, but you'll have to figure it out as now it's your turn. Can you make it out on time or will you make your way to the execution chamber?
Player review
"One of the best escape rooms we've done. My wife and I did the Saint Angelo's Castle room. I was worried that we wouldn't be able to complete the room because it was just the two of us and the room was designed for 2-6 people, but we made it just in time. The puzzle were inventive and they did a great job drawing you into the story. The staff was wonderful as well."CD (TripAdvisor)
This Komnata quest San Antonio experience will have you break out of the infamous dungeon in Saint Angelo's Castle.
A close friend of yours has been missing for a few days now. You've tried calling him multiple times, asked around, checked with his family but no one can seem to get a hold of him! You get really worried and talk to a few friends regarding the matter. Your group decides to go and investigate the hostel where your friend had been living for a while now.
As you step foot into the hostel, a chill went down your spine. There was definitely something spooky about the place! You gather your courage and go about finding your friend's room. As soon as you and your friends get into the room, you realize something is definitely very unsettling about the lodging. But you best your fears in order to find any clues about your friend's current location. As your group was rummaging the room, suddenly the door closes and now you're all locked in. You have sixty minutes to solve the mystery and find your way out before you go missing just like your friend!
Player review
"Before coming here, we'd never been to an escape room. We came here two times so far and it was two days in a row! We did Hostel and had a blast! It's challenging for everyone yet appropriate for my young nephews who came both times. We were on a roll in Hostel and broke the record. It was so much fun. We're totally hooked."Melissa (Facebook)
This escape room experience will have you find your way out of a spooky hostel room before you're locked in there forever!
You were very close to your grandmother and the news of her passing away left you heartbroken! You reminisce your memories of her as you bid her farewell. But you're surprised when you find out your grandmother left you something that's quite precious and was really close to her heart! In her will, she informed you about a beautiful diamond necklace from the 18th century!
But there's a problem, she forgot where she kept the necklace! There's no way you can pass up on this incredible heirloom. You have to find the necklace that's hidden safely somewhere in her house. To make matters worse, the executor of her will is going to sell the house and once the deal is done, the new owners would the property as well as everything in it! You have exactly one hour to locate the precious necklace before it becomes someone else's possession.
Player review
"My husband and I played 'Priceless Gift'. It was a great experience. The owners welcomed us warmly and chatted with us as we waited for everyone to arrive. They were extremely encouraging of our team and seemed to enjoy the fact that we enjoyed ourselves. The game was fun, challenging, but so creative, not frustrating at all. We would definitely recommend to anyone looking for a fun group outing!"Angela (TripAdvisor)
This escape the room experience will have you looking for your grandmother's prized necklace.
An epidemic of a massive scale has taken over the world! No one's safe, the entire planet has been compromised and people are dying everywhere. The people all around the world have lost hope and simply await to part them from their fears and consequently their lives. A few people have evaded the infection and have remained safe. The very of humanity is at its last legs now.
You and your friends heard a rumour that this epidemic is man-made and was released to keep the population levels under control. You also got a tip about the existence of a cure in a lab somewhere. You take it upon yourself to find a cure and save humanity! As soon as you enter the room, you lay your eyes on an open test tube and realize you've been infected. Suddenly the lab doors get locked. You have one hour to find the cure and get out of there before you fall prey to the epidemic just like the rest of the world!
Player review
"Lot's of fun! We had a party of eight, ranging in ages from 11 to 68. We played in the Conspiracy Cure room and barely escaped with four seconds to go! The kids loved the game and there were lots of puzzles to solve. I gave it four stars because the room was a bit small for a party of eight and we felt a little on top of each other at times."Traveler (TripAdvisor)
This escape room experience will require you to save the world from a sinister man-made epidemic.
Egyptian Mysteries
A world of mystery and fascination lies hidden in the tombs and pyramids of Egypt. With its amazing history and rich culture, you've always had a pull towards the land of Pharaohs. You decided to follow your passion and started interning for one of the most brilliant minds on the planet. Your mentor, a renowned Egyptologist, after years and decades of research and excavation, has finally made a history-changing discovery!
But just before he could make this discovery known to the world, he has been kidnapped. Some powerful factions are against this amazing discovery being made public and are on their way to destroy your mentor's study! You have one hour to find out the clues in his study that could lead you to the discovery before your enemies grab a hold of it. Can you get a hold of the treasured piece of history before the evil factions lay their hands on it?
Player review
"I arranged for my husband, three of our grown kids, and our two oldest grandchildren to visit the Escape Haus just after Christmas. The lady I spoke with on the phone not only answered all my questions but also very kindly offered to keep the 6-12 person Egyptian Mysteries room for just our six participants. They enjoyed being together and doing something unusual."Patty (TripAdvisor)
This escape room experience will have you look for the history-changing discovery made by your mentor.
Lately, you've been really suspicious about a particular secret agent. It seems he's been meeting a lot of strange people at odd times in complete secrecy, or so he thinks. Your sources have informed you that he has been meeting with people from enemy countries and selling secrets about your motherland! A rogue agent like him can be extremely dangerous to a nation so you've taken it upon yourself to reveal his true intentions before things get out of hand.
You and your friends sneak into his to find evidence against him. You must corner him and get him punished for committing espionage, so it is critical that you find some clues against him. You also got a tip that he has been receiving payment in the form of diamonds! You were looking for the diamonds and any other evidence to use against him when the door suddenly closes behind you back. You have one hour before the rogue agent returns from his afternoon appointment.
Player review
"For my birthday I wanted to do something different, so we played the foreign agent room and we had a blast, with only a few seconds to spare we made it. When we asked for a clue they quickly got us one, and we were well on our way to getting out. I would definitely recommend this place to anyone wanting to have fun and experience something new"Bhoughton (TripAdvisor)
This escape room experience will require you to find evidence against a rogue agent who's been committing espionage.
Stonehearst asylum has been on the news lately. A patient going by the name of Katherine has gone missing from the facility. The situations seem quite fishy so the authorities have stepped in and ordered a specialized team for help for unraveling the mystery of her disappearance and finding Katherine. The staff of the facility doesn't seem to help with any leads.
In such a time of distress, you and your team of psychoanalysts have been appointed by the authorities in order to help solve this enigma. As soon as you step foot into the establishment you realize that something was seriously wrong with the place. When you were trying to find any leads pointing towards the missing patient, the hospital suddenly initiated a lockdown. Now you're stuck inside the hospital. You have sixty minutes to find Katherine and make it out of the spooky facility.
Player review
"We want to start by saying that this is a really cool theme. The website seems to indicate that this room is part of a larger story, and we hope that is true. It is incredible to do rooms that are linked by a common narrative. The production design is relatively simple, but very effective. Lots of cool props to fill the room out. Overall, it's worth a whirl. Just put your patient pants on."JJ (Yelp)
This extreme escape stone oak escape room experience will have you raid an asylum and look for the missing patient.
A dark shadow has loomed over Americans for over 30 years now. Through the nights, a criminal going by the name of the Zodiac Killer has induced fear in the hearts of many. He is merciless, and won't be affected by the age, sex or status of his victims! Countless have fallen prey to his psychopathy. The authorities tried their best but failed to catch him every single time.
As luck would have it, it's your turn to bide your time in his dungeon now! You've been kidnapped by the Zodiac Killer and locked up in his secret lair. You have no idea where you might be but you're sure there are people near you. You have made up your mind to join your fellow inmates and find your way out of the deathtrap. But you can't let him walk free. You and your crew must find clues leading to his true identity so that you can get rid of him once and for all! Do you have it in you to stand against a serial killer?
Player review
"We were offered their Zodiac room, but warned us that it had a four person minimum so our two-person likelihood of success was almost non-existing. We checked our pride at the door and entered in hopes of making it as far as we could. We escaped with almost 7 minutes to spare. It wasn't easy, we were in rare form for this room and only recommend it for experienced escape artists."JJ (Yelp)
This escape room experience has you kidnapped by a dangerous serial killer! Can you make it out alive along with your cremates?
You and your friends were trekking along the woods. Everyone had been really busy with their lives but getting together doing something like this really helped out a lot! Everything was going well but soon you realise that you are being followed for quite a while now. First you didn't think much of the man but when he started showing signs of hostility you became a lot more aware. Suddenly the man attacked you and your friends with murderous intent!
You and your friends are terrified and ran through the woods trying to save their lives. You and a few of your friends found a cabin in the woods and take refuge in it. But the cabin door closes suddenly and you soon realize that you've been caught in the criminal's trap! The psychopathic criminal will catch up in about sixty minutes. You and your friends must ransack the house looking for clues and break out of the dreaded lodging! You must give it your all in order to get out of this cabin alive!
Player review
"We went for a bachelorette party. We did the Cabin room. It was a ton of fun and very challenging and one of escape room near me. We didn't get out, but we'll be back! The only negative was that wished we could do just our group, but the room was designed so that we really needed as many people as possible for the brain power. Would definitely recommend!"Silo (TripAdvisor)
This escape room experience will have you run away from a criminal. Can you get out of the lodge before the serial killer catches you!
Scary Escape Rooms in San Antonio
Zombie
You find yourself in a strange room. You don't really remember going there though, what exactly is this place? When you glance around the room you see just a few objects but suddenly you lay eyes another man! You felt at a little ease with the company in this unnerving situation. But the poor guy seemed to be chained. You approach the man in order to help him.
As soon as you approach him the man looks at you and sent chills down your spine! He wasn't a man at all, at least not anymore. You realize you've been locked in a room along with a chained zombie! You have sixty minutes to rummage around the room and find clues to help you escape the ridiculous situation. The zombie is now trying to break free from the chains! You don't have much time left, can you solve all the puzzles and get out in time?
Player review
"After hearing about the place in a bus tour, we checked it out in our last day. The room was well done and the puzzles were fun. When hints were needed the staff helped without giving away the puzzle which kept it fun. In the zombie one we had to battle poor lighting, shorting circuits and spare body parts to solve the puzzles. It really kept you on your toes!"Jeff (TripAdvisor)
This escape room experience will lock you in a scary room along with a zombie!
No matter what you like, there's an escape room experience you'll love. With people letting their creativity run wild when designing new escape the room san Antonio experiences, there are escape rooms San Antonio panic room offering different kinds of experiences. Everything ranging from horror and slaughter to mystery and drama, from fantasy to kids-friendly scenarios. Numerous establishments now offer a wide selection of escape rooms making them popular amongst people from all walks of life.
Do you agree with our list? Engaged in any of these experiences? Share your thoughts and opinions in the comments section below. If you believe we missed out on any great experiences, share your suggestions, we'll make sure to consider them!