Best Escape Rooms in Dallas!
Top 10 Escape Rooms in Dallas! We've included all kinds of experiences in our list, from horror and fantasy themed to family friendly.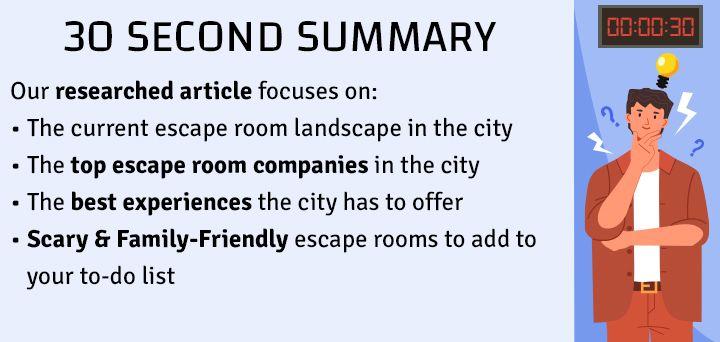 Dallas houses 157 escape experiences spread over themes that attract enthusiasts of all ages!
We have compiled a list of 5 top-rated escape companies and 10 fantastic escape rooms in Dallas you can't afford to miss the next time you're out and about in Dallas. We put in hours of work with research, surveys, analyzing 7000+ reviews and reaching out to the game masters themselves to make sure we put forward unerring experiences of the escape rooms in Dallas to help you make the right choice. So if you want to take your creativity and intellect for a ride, read ahead!
Top Escape Room Companies in Dallas
The Escape Game has worked its way to the top! All games are in-house and are a result of the hard work of a variety of experts. From scenic artists to robotic engineers, the escape company has outdone itself in creating immersive escape rooms!
The venue of the company is tidy and welcoming. The posters of the games on the walls are eye-catchers and encourage players to indulge in multiple experiences! The tablets for signing waivers are set aesthetically and feel like a dramatic part of the experience.
Here are the exhilarating adventures that they offer!
Gold Rush: Find the stash of gold hidden by Clyde Hamilton, a gold prospector! Can you find the hidden stack within a limited time and go home rich?
The Heist: You are tasked to retrieve a stolen painting from the office of Vincent Hahn. Within 60 minutes, you must scour the room to accomplish your mission!
Playground: This is the last assignment before you break for summer vacations! Can you work together with your squad to earn your special days of freedom?
Prison Break: You have been wrongfully accused and put behind bars! Can you escape in 60 minutes?
Breakout Games was established in 2015. The escape company aims at bringing adventurous, fun, and challenging experiences to the area. They claim that their escape games are designed to create strong bonds between players. They are perfect for a fun day with friends, family, co-workers, and even for a team-building exercise.
The striking red, black, and white theme at the establishment and the well-organized reception look inviting. Official merchandise of Breakout is also available at the venue for the players. They also sell mystery boxes so that escape enthusiasts can take the fun home.
Here are the adventures that this escape room near Dallas offers:
Undercover Alley: The Syndicate is a high-profile criminal organization that has terrorized the town! Investigate the Doomsday Alley in 60 minutes before they initiate their next sinister plan!
Runaway Train: Radicals have taken over the train and planted explosives that you are on board! Stop the train and release the passengers before the train blows up!
The Kidnapping: You have been blindfolded, handcuffed, and kidnapped! You have 60 minutes to break free!
Corky's Gaming Bistro is an entertainment centre established in 2018. The company offers 78 classic arcade games, 12 pinball machines, ten ax-throwing lanes, and four thrilling escape rooms. Each escape room is a multi-chamber immersive experience fit for enthusiasts of all ages.
You can book the following escape rooms:
Alcatraz: You and your team have been locked inside the high-security prison, Alcatraz. Can you break free in 60 minutes
Hopeless: Taking help from a stranger has landed you in trouble! The innocent-seeming nurse, Emily, has trapped you inside her house while leaving to run some errands! As you look around, you realize that this is not the first time she has held a hostage! Can you escape in an hour before the deranged nurse returns?
Journey To The Jungle: The board game that you started playing must be completed! Can you survive all challenges that are thrown your way?
Jack The Ripper: There has been a string of unexplainable murders in the Whitechapel District of London! Can you crack the case in 60 minutes?
Xcape Adventures is a family-owned company that was established in 2014. The founder combined their passions for video games and technology to create real-life escape rooms in the city.
The venue of the escape room company is expansive. The disco ball hanging from the ceiling at the contemporary establishment is an eye-catcher. The waiting room has many comfortable couches to accommodate large groups of players.
Here are the games you can enjoy with your squad at this exciting escape room Dallas Fort Worth:
Captain Skully: Captain Skully and his pirates have captured you and your team! Can you outwit the savvy pirate?
Dr. Gene Etics: Dr. Gene has locked up his assistant in a cell! Your task is to rescue the assistant and escape in time!
The Mission: An organization is trying to acquire the formula for pure energy to develop a deadly weapon! Prevent the formula from falling into the wrong hands!
Steampunk 2.0: Your wealthy aunt has set a $27 Million prize for any relative that solves a series of puzzles, riddles, and codes. Can you claim the money by standing up to the challenge?
Escape This was established in 2015 by lifelong friends and entrepreneurs Raj and Harold. The escape company aims to provide a creative and intellectual experience that involves logic and critical thinking.
Here are the escape games you can enjoy at this immersive escape room North Dallas:
The Epicuren: Celebrity chef, Ralph Gustav, has always won the "World's Best Dish" competition. Your task is to break into his private test kitchen and find the secret ingredient within 60 minutes!
The Society: You have been invited to join a secret society. Can you complete the initiation ritual to prove yourself worthy?
Pathogen: A deadly virus has spread in the city. You have 60 minutes to find the antidote. Can you save the lives of the people?
Heist: Thomas Gardner is a suspect in an embezzlement case. He has hired you to clear his name. Could there be more than what meets the eye?
Best Escape Rooms in Dallas
You've always dreamt of a life of adventure and thrill! There's something that gets your blood flowing when you hear the stories of bandits and people on the wrong side of the law! But you never could bring yourself to do something of the sorts, something that would get your heart beating. As fate would have it, you just heard a rumor about a bank heist that's going to take place in a few days! The bandits seem to be looking for another member. This is your chance!
You and a few close friends have joined forces with the band of thieves to loot the bank. The bank you're about to rob is the biggest in the whole county! You will have sixty minutes to rob the bank and run off with the loot once you step foot into the establishment! This escape room will require you to awaken the rowdy cowboy inside you. Can you show the bandits what you're made of, or will you get caught and spend the rest of your years behind the bars of the county jail?
Player Review
"We enjoyed the bank heist room with our teenagers over Spring Break. We had a good time. The clues are fun, and it's certainly not easy to solve. It would be more fun to have a full group of 10 people that you know. We had four strangers with us. It was okay but would be better with people you know!"Parnell (TripAdvisor)
This escape room Dallas is a major throwback to the old wild west movies! This absolutely cannot be missed if you're in Texas.
You live in a small peaceful town. But suddenly, something strange has happened that has thrown your quiet little city into a state of panic. Your best friend Will has been missing. There wasn't even any trace left behind, and if this were a case of kidnapping, the kidnappers would have contacted Will's mother by now. How could he have vanished into thin air?
As time goes on, Will's mother seems to be having a hard time accepting reality. She believes her son is trapped in another dimension. Everyone seems to think that she's lost it due to the grief of losing her son, but lately, you've been experiencing strange things as well. What if Will's mom is right? No matter how much they try, the authorities can't seem to find any clues or leads. You and your friends have decided to take matters into your hands now. You have sixty minutes to save your best from falling prey to sinister beings of the other dimension. Can you make it on time?
Player Review
"We've only done one escape room before this one. Our group of 5 are Stranger Things fans, so we tried the Upside Down room. The puzzles were quite clever and took a bit of teamwork to solve. We didn't quite make it, but everyone had so much fun, we weren't disappointed. Booking was easy, and I liked being able to choose a difficulty level. Good place!"Srobin (TripAdvisor)
This Stranger Things escape room Dallas is a must for all the Netflix fans out there. Save Will from the upside-down.
You open your eyes and find yourself in a jail cell! This escape room experience will take you to the gun-slinging, horse chasing wild west.Experience the gritty and real west from behind bars! You and your friends are fellow outlaws that have been locked in a jail cell. Your situation was looking bleak, but the luck seems to be on your side! The sheriff has gone out for a ride and left the cell keys behind, as it turns out. All you have to do is find and get a hold of the keys.
This is your chance to break free! You must devise a plan along with your friends to get a hold of those keys. You must utilize everything at your disposal to get hold of them as quickly as possible! This room has been set up exactly like the holding cells of the old wild west movies. The raw and gritty feel of this experience will take you straight to Texas. You have sixty minutes before the sheriff shows up. Can you make it out in time, or will you spend the rest of your days behind bars in the wild wild west?
Player Review
"Solidly recommend. Our game master made sure we had a great time doing the Wild West game. The room was really straight forward and rich with theme. I appreciated there wasn't a ton of superfluous distraction. I always find too many decoys frustrating. It was my first time trying a room with only two people. Doable, but you gotta be pros. We had a ton of fun!"Samuel (TripAdvisor)
This escape room experience is for all the Wild West movie fans out there! Can you break out of the prison cell while the sheriff's out?
About The Experience
Albert Winestein, a self-proclaimed genius, has developed a new Artificial Intelligence technology that can potentially revolutionize the world as we know it! It was a bit hard for you to get your head around, but it is true. The child genius has hidden the blueprints of AI technology in the chemistry classroom of his old school. You and your team must retrieve the said blueprints at all costs no matter what problems stand in your way.
Things turn south when you realize that the school building is about to be demolished! This escape room will bring about a wave of nostalgia as you rummage through the chemistry lab to find the blueprints of Artificial Intelligence! You have exactly one hour to figure out the hidden blueprints before they are forever buried under the debris of the institution. Will you find the blueprints before it's too late, or will the child genius out-manoeuvre you?
Player Review
"We were a group of 10 people and we enjoyed it thoroughly. We did the Abandoned School mission and solved it successfully. We will surely be back and try to solve the other remaining missions. Our Game Master did an awesome job in explaining the mission goal and also gave us ideal clues that helped us to solve the mission."Akshay (Yelp)
These blueprints have the potential to change the world as we know it! Use your wits and wisdom to crack one of the best escape rooms in Dallas Texas!
About The Experience
This escape room will transport you back to the year 1955. You've been unjustifiably accused of a crime and sentenced to life in prison without parole! Ever since you got in your cell, you've been hearing rumors about the previous resident. Some say he escaped. Some say the diabolic warden murdered him. The mystery of his disappearance remains unsolved. No one knows what happened.
Did he escape? Did the warden murder him? It doesn't matter now. This escape room experience will put you through your paces with its intense riddles and mind-tingling out once you're locked in. The walls seem to be closing in on you. You have sixty minutes to figure out the puzzles and find your way out of the prison. Can you make it out? You have to escape before you share the same fate!
Player Review
"I have never done an escape room before so I don't have a TON to compare it to, but the guy I'm seeing invited me to go do Prison Break with him here. It was late at night on a Tuesday and it ended up being just us, which I quite enjoyed. I obviously can't say too much about the actual game itself, but what I can say is that it was super immersive and exciting."Sammie (Yelp)
This escape room in Dallas is a fantastic prison break scenario that'll keep you at the edge till the very last moment!
You gain consciousness, and the pain in your head is killing you. What just happened? You remember being hit from behind, and everything went blank. You soon come to realize the situation, you've been kidnapped! But even after coming to your senses, you cannot move or see as the kidnappers have blindfolded and handcuffed you. How did you get in such a sticky situation? As these thoughts cross your mind, you hear someone call for help! It looks like you're not the only one being held hostage!
The kidnappers were discussing something and left for a while. This is your chance to do something! You ask the other hostages to help you and break out together, everyone agrees readily. First and foremost, you remove the blindfolds, and now you must find a way to lose the handcuffs. After you've gathered together, you must find a way to solve the puzzles and break out. You have sixty minutes before the kidnappers get back and foil your plans. Can you find a way to break out in time
Polish your escapism skills and head over to the best escape room Dallas TX!
Player Review
"We did the kidnapping escape room. I would recommend, it was a lot of fun. We finished with 3 minutes to spare. I loved that we were handcuffed and blindfolded starting off that was definitely a different element to the escape room. Great creative puzzles in this room. We had a blast! It was engaging and exciting for people who had never done an escape room and those who have."Kelsey (Yelp)
This escape room in Dallas area will have you experience being kidnapped and breaking out. Can you manage the task on time?
For over two centuries now, the temptations of gold have lured mobs to the hills of Northern California. Everyone wants to run into a pile of shiny metal. No one was as fascinated by it as Clyde Hamilton, a gold prospector whose greed knows no bounds! Clyde's greed helped him take up gambling, and he became an addict. Consequently, he made too many bets with the wrong crowd, and now he's gone missing!
You've received a tip about the location of his gold stash, but the information has already spread like wildfire, and you aren't the only prospect coming for the gold stash. The hoard is hidden in a deserted cabin! If you succeed, you'll be walking out with pockets full of gold! But there's no time to waste. This news has spread like wildfire, and now everyone is looking for the hidden gold stash. Do you have what it takes? You have sixty minutes to find the gold.
Player Review
"We went as a group of five to attempt our second escape. We had so much fun completing the Gold Rush game. We had two newcomers, and they loved it! We moved from room to room, searching for hidden objects and clues to help us escape. We escaped with minutes left on the timer! Anyone looking for something cool to do with a group should try out these games."ccea28 (TripAdvisor)
This Dallas escape room will take you on a gold rush in the hills of North Carolina. Can you find the hidden gold stash before the others do!
Your city has an incredible museum full of all kinds of objects ranging from contemporary to vintage works of art. People worldwide visit the museum to see some of the most impressive pieces of art. One day out of the blue, one of the most precious parts of the artwork got stolen from the museum! You couldn't see him leave on the CCTV footage, and neither did anyone witness the thief leaving the building's premises, so he indeed has to be in there somewhere. The authorities did everything in their power but were unable to retrieve the masterpiece.
With time ticking away, they come to you for help. You and your gang are one of the most famous bands of thieves in the country! You have been asked by the authorities to help them find the thief and retrieve the artwork back from him. It might not sound quite tricky, but the thief seemed to have covered his tracks incredibly well, and locating him is no joke. With time running out, the authorities have started to grow impatient. They have given you a final warning. If your team manages to find the stolen artwork within sixty minutes, you shall be treated as national heroes, and your every single conduct against the law shall be forgiven. But, if you were to fail, you'd be tried like a criminal!
Player Review
"So fun! Definitely, an adventure to remember and worth every penny. It is recommended that at least 4 players per challenge, but also you can be put in a challenge with people you don't know. I did the heist challenge with people who have done these before, and it was pretty difficult to catch on so I recommend starting with one of the easier challenges for beginner levels."Sabryna (Yelp)
This escape room experience will have you steal from a thief! Can you pull off this heist inception?
Scary Escape Rooms in Dallas
The civilization as you knew it once has crumbled! A zombie epidemic has taken over the earth, and now the planet is home to the undead. No matter where you go, all you see are hordes and hordes of zombies saunter aimlessly. Even a hint of life triggers them, and their innate instincts take over to kill and satiate their hunger. You and your friends have hidden in an old run-down barn. This place won't remain safe for long, and you don't have the means to defend it.
You had lost all hopes of survival, but out of the blue, one day, an old radio in the barn caught a signal broadcasting the location of a haven. The radio broadcasted information about a country that promised food, medicine, safety, and clean water! This was just too good to be true. But how will you run from the zombies? You find an old bike in the barn, now you must discover its keys, new spark plugs, and some fuel to make it out of this hellhole. Can you find all the required things in time? The zombies are on their way, and you have sixty minutes to save your life.
Player Review
"Wow what a great experience. This was our first Escape Room and we had a blast. We got the Zombie Room, super exciting and full of surprises. Our Game Master was awesome. Full disclosure: we had to get four clues in order to escape, but there's no shame, as long as you survive the zombie apocalypse! We escaped and would go back again!"Aldo (Yelp)
This scary escape room Dallas is a must for all the Walking Dead fans out there. Just make sure you don't become one of them.
Kids/Family Friendly Escape Rooms in Dallas
It's the last day of school! This means it's time for the annual Summer Kickoff Kickball Tournament! You and your mates will go up against your arch-rivals, the 5th Graders! You must win at all costs! But you and your friends are still stuck in the classroom! To leave, you'll have to complete all your assignments and grab your final report card. Time is of the essence, and you can't afford to waste a single moment!
This escape room is designed like an elementary school! You get to be a part of the nostalgic memories of you playing around as a kid. The game begins in sixty minutes. If you're late, the game will be forfeited, and so will be your summer vacation! It's time to bring your A-Game. Complete the assignments and beat your rivals to face your summer vacations like a champion!
Player Review
"Had a great time with my team at Playground. This was my second team building event at the Escape Room establishment. I would highly recommend to anyone. This would make a great date night with another couple. For those that feel claustrophobic this particular room is their largest. My biggest tip is pay attention because sometimes the easiest answer is the right one."Joadkins (TripAdvisor)
You get to play as an elementary schooler and bask in the nostalgic feelings of the simpler times. Plan an adventure for your children at the best escape room for kids Dallas!
Do you agree with our list? Engaged in any of these experiences? Share your thoughts and opinions in the comments area below. If you believe we missed out on any great experiences, share your suggestions, we'll make sure to consider them!