Best Escape Rooms in Milwaukee!
Top 10 Escape Room Experiences in Milwaukee! We've included all kinds of experiences in our list, from horror and fantasy themed to family-friendly.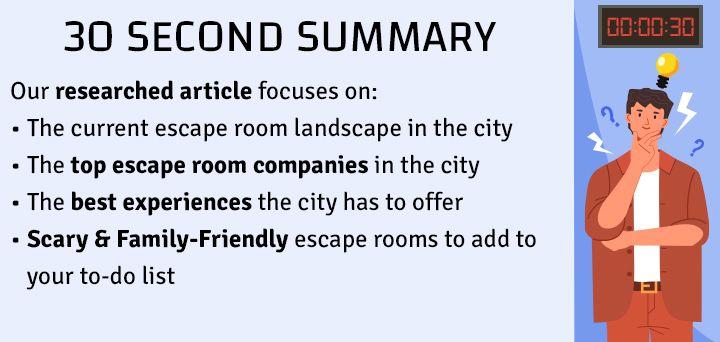 Escape rooms are perfect entertainment options for groups of people, be it your friends, family, or even your work colleagues!
Milwaukee has over 40 escape rooms. These escape rooms provide a sense of an alternate reality through their immersive and challenging escape rooms.
We have come up with a list of 5 top-rated escape room companies and the 10 best escape room experiences you cannot afford to miss the next time you are up for some fun. We put in hours of work with research, surveys, analyzing 6000+ reviews, and reaching out to the game masters themselves to make sure we put forward unerring experiences of the escape rooms, to help you make the right choice. Make sure you stick till the end because, as they say, the best always comes last! So, if you want to take your creativity and intellect for a ride, read further!
Top Escape Room Companies in Milwaukee
Breakout Games was launched in 2015. The company has since become a national brand, having launched over 20 locations all over the country! Breakout Games stands out, even in the small details. At Breakout, the (unlimited) clues are given only when asked and only when all the players agree to receive the hint!
The company also offers mystery-in-a-box adventures called Dispatch that test your detective skills with a series of physical and virtual clues, delivered right to your doorstep! Dispatch Kids is a series of games designed for younger kids to develop essential skills like cognitive, language, numerical, and social skills in a fun and story-oriented manner.
Here are the exciting rooms you can check out at the venue:
Undercover Alley: You're an undercover detective, and your task is to stop the Syndicate before they wreak havoc on Breakout City. Can you save the city in 60 minutes?
Mystery Mansion: A presence lurks around the ruins of a beautiful, abandoned mansion, and you have 60 minutes to uncover the buried secrets. Can you?
The Kidnapping: A kidnapping just took place, and unfortunately, you were the victim. You've been blindfolded and handcuffed, and now you have 60 minutes to escape.
Do Not Disturb: You've tracked the Kidnapper to a motel room. But he's caught you. You have 60 mins to escape (once again) from his clutches.
Museum Heist: A rare collection of artworks has been stolen. You and your group have been hired to find it. You need to work quickly before time runs out.
Operation Casino: The Syndicate is responsible for a missing agent, and it is up to you to go undercover and bring them down. Better work fast, you have only 60 minutes!
Escape City 13
Escape City 13 was established in 2017. The City 13 team believes in providing a fun but challenging experience to escape room players. The rooms are designed to bring stories to life and offer a range of escapades to choose from, engaging and immersive.
Escape City 13 can accommodate a large group of up to 100 people and one of the few escape companies in Milwaukee offering on-site catering options! The huge waiting lobby at Escape City 13 is equipped with complimentary coffee, popcorn, and a pool table that players can enjoy before attempting one of the fantastic escape rooms!
Here are some of the experiences that you can enjoy at the establishment:
The Armoury: You and your team are to sneak into the Armoury and acquire the best weapons. Are you all up for the task? Or will you disappoint the General?
City Reserve: Break into the vault and steal jewels and precious diamonds. If you succeed, be hailed as a hero or else face dire consequences.
Cyber Station: There is an old abandoned railcar hidden inside the Cyber Station. Your team's mission is to get it up and to run. Can you?
Neon Light Diner: There is something hidden in the Steams hideout, i.e., The Diner. Will you end up with a reward, or will you let go of your honor?
Save Milwaukee was launched in 2015. Shlomo Levin, the brand owner, intends to keep the brand local. The escape company aims at blending Milwaukee's rich architecture with unique escape experiences.
None of the escape rooms at Save Milwaukee are scary or horror-themed. Save Milwaukee has been featured on many news channels and is well-loved by players across backgrounds! If you want to refuel before or after the game, Save Milwaukee is surrounded by restaurants that players can check out!
Here are the rooms that you can enjoy at the venue:
McSnooty's Gallery of Fine Arts: A gang of credit card thieves has been using the art gallery as a front. Can you break in and find the incriminating evidence, or will you end up in trouble?
The Device: An ingenious inventor has been taken captive, and the device he made is going to detonate and destroy your beloved city! Can you disarm the explosive in time?
Team Escape 262 is a family-owned business established in 2017. The venue offers an on-sight private meeting and party room along with several of the company's preferred caterers who can help you make sure that you get precisely what you want to make a great party.
The company also offers mobile escape rooms that can travel to a location according to the player's convenience! Additionally, if you're feeling even more adventurous after checking out their escape rooms, you can try ax-throwing in one of the three ax-throwing lanes that they offer!
Here are some of the thrilling adventures you can book at the venue:
The Haunting of Crowe Manor: The spirit of Tobias Crowe haunts the Crowe Manor. Can you and your team escape the room before he decides to keep you forever?
Captain Maxwell's Shipwrecked: You and your team are trying to find Captain Maxwell's treasure before he returns and haunts you forever. Will you succeed? Or will you end up as his next victim?
Escape Waukesha was opened in 2016. The company aims to provide an unmatched immersive gaming experience for ages 12 and up. The escape rooms help develop essential skills such as team communication, out-of-the-box thinking, and problem-solving through their well-designed and intellectually stimulating escape rooms. The puzzles are all logical and well-created with quality elements and will have you coming back for more!
Here are some of the adventures you can enjoy at the establishment:
Final Countdown: You're a Quantico graduate, and you have 60 minutes to diffuse four bombs placed across the nation. Are you up for the challenge?
Murder Manor: A murder case involves 12 suspects, and your mission is to find the evidence in 60 minutes. Can you, or will you let a murderer walk free?
Terror on the Titanic: The Titanic is sinking, and you have 60 minutes to find items that you can trade to secure a place on the lifeboat. Hurry before you sink along with the ill-fated ship.
Best Escape Rooms in Milwaukee
Pharaoh's Revenge
Back in 1922, a very famous archaeologist named Howard Carter happened to stumble upon a staircase that led him to the doorstep of King Tut's Tomb! Egyptian fables warn people never to disturb a Pharaoh's slumber, for it would release the curse! What follows will be the horrors of Pharaoh's Revenge. Despite knowing the legend all too well, Carter could not stop himself and entered the tomb. He has not been seen since that fateful day.
Now we fast forward the timeline of 95 years. Howard's grandson, James, has come across a document that talks about a mystery in the tomb.' Being one of the most well-known adventurers in the whole world, you have been hired by James to enter the tomb!
He wants you to unravel Howard's fate and find a way to break the curse. Do you have what it takes to unravel the mysteries in the Pharaoh's Tomb, or will you be another victim of the curse? Your team has sixty minutes to enter the tomb and find a way to undo the Pharaoh's Curse.
Player Review
"Tried escaping last weekend, and we had such a good time! We enjoyed all the surprises that happened while in the room. The man that was in charge of our adventure was super nice and helped make the whole experience phenomenal. I really hope I get a chance to go back and try out one of the other rooms." Kaitlyn (Facebook)
This thrilling Milwaukee escape room experience will have you looking for clues in the Pharaoh's tomb to dispel his curse!
Hungover
Everyone dreams of partying in Las Vegas and their friends, and it looks like you made it happen! You wake up with a sharp pain in your head. You cannot believe that you are actually in Las Vegas, and you keep getting a few flashbacks of the previous night. It was a great night, wasn't it? It is a shame that you can't remember anything. What happened? As you were wondering how in the world did you all get here in the first place, you're mortified by what you see.
The entire hotel suite was a mess. It was absolutely beyond recognition, and there's no way you'll be able to pay the damages. You wake your friends up, hoping they'd remember anything, but it was to no avail. They're just out of it as you.
First things first, you must get out of this place but where are the car keys? You have to get it together. Security will be showing up in an hour to kick you out because of all the trouble you caused last night. You have one hour to look for the car keys and fish for clues that would help you piece together last night's incidents
Player Review
"My friend and I did their Hangover inspired room a few weeks ago and it was so awesome! I had never done an escape room so I was a little anxious about not understanding what to do, but our Game Master was super helpful and very nice. We were SO CLOSE to making it out. Can't wait to try their other rooms!" Arielle (Yelp)
The famous Hangover movies have inspired this escape room in Milwaukee. You must find the car keys before you're kicked out of the hotel suite!
Welcome aboard the world-famous Titanic! Your employer John Jacob Astor has decided to move to America and his entire family and a few of the most trusted staff. One night, as you prepared his room, the ship suddenly jerked back and forth, and John frantically ran into the room. As soon as he set foot on the deck, he started yelling, 'THE TITANIC IS SINKING.' You are horrified as you realize that the rumors are true.
The ship hit a giant iceberg, and the only way you can make it onto one of the lifeboats is if you pay the crew members a sum of $50,000! John never went a single day without bragging about his jewels and money inside his secure safe room. If you and your fellow employees manage to get into the safe space and find those precious gems, then not only will you be able to make it into a lifeboat, you'll also never have to work again!
Do you have what it takes to get your hands on the jewels? The crew member can only hold your spot for another hour. You must make it to the lifeboat in time, or you'll sink under pressure
Player Review
"We had a great time at this Escape Room Establishment! The Titanic room had so many creative riddles and locks that kept our group of 8 moving and puzzling the whole time. It's a great value for the experience and fun! Our Game Master and the team were very accommodating, kind, and made it a wonderful first escape room for us. I'd definitely recommend it!" Acadia (Google)
This amazing escape room experience in Milwaukee will have you lived through the horrors faced by the people on board the Titanic as it sank into the depths of the ocean.
The Heist
You are one of the most skilled larcenists in the world. This time, you and your team are planning something massive. You've planned on stealing diamonds and getting them into the U.S. without anyone noticing. Everything is going smoothly, and you're halfway done. You successfully lifted the diamonds, managed to hide them efficiently inside of the small wooden sculpture, and got them out of France without any issues.
Your next step was to break into the museum gallery and get the diamonds out of the sculpture. But suddenly the authorities caught a whiff of the diamonds and started looking into it! As it turns out, Donovan, your leader, read between the lines and began plotting against you. He was the brains behind this whole endeavor, and he was never going to let you walk free with his goods! He needed a scapegoat, and your team fit the bill.
Now you're in trouble and must find a way to save yourself. You have sixty minutes to figure out a way to get the diamonds and find a way out of the museum.
Player Review
"We chose 'The Heist': Find the diamonds hidden in an art museum. To all of our delights, this was a fantastic experience. The challenge encouraged all of us to work as a team solving the many steps to a successful conclusion with five minutes to spare! We highly recommend this escape room establishment!" Jeff (TripAdvisor)
This epic Milwaukee escape room experience will have you carry out a diamond heist in a museum. Will you walk out a millionaire or spend the remainder of your years behind bars?
James Bomb
The world is not as peaceful as it might seem once you take a closer look. Many secret organizations make it their goal to wreak havoc on society and shatter world peace. Thankfully, private agencies take care of these imminent threats and ensure the safety of innocent citizens. You are a secret agent who works for MI6! You've recently received a tip that an organization might be planning a massive attack on the Bank of England.
While you were out on a secret mission trying to intercept information to stop the attack, you and your team of secret agents were ambushed, outnumbered, and captured by none other than Count David of Liverpool! You open your eyes and find yourself tied up in a room.
The Count has you and your team shackled in the basement of the World Bank along with an active bomb! He's planning to destroy the World Bank and your team along with it. You have one hour to find a way to deactivate the bomb timer and break out of the shackles.
Player Review
"We went as a group of 5 to try Mr. James Bomb room. The person who set us up was great too! He was very friendly and funny, and you can tell he enjoyed what he was doing. Our Game Master set the stage for the room with a costume, music, and lighting: it was really neat. I would definitely do this again next time I'm in Milwaukee! It's a unique experience for a group of people." Renee (TripAdvisor)
This escape room experience will have you feeling like the secret agent 007 as you save hundreds of lives from a catastrophe.
Dr. Kevorkianstein is an evil scientist who has chosen to take the infamous path. After years of research and development, he has finally succeeded in creating a blood-borne pathogen in his top-secret laboratory. He has decided to release the deadly virus and plans to sell the antidote to make billions of dollars.
Innocent people all over the world have started falling prey to the deadly virus. The governments have been trying hard to negotiate with him, but he wouldn't budge. They can't take a heavy-handed approach as he is the only person alive who knows how to make an antidote to this virus!
When the government agencies couldn't do anything, they turned to you for help. You and your friends are a group of elite CDC Agents. Your team has been tasked to infiltrate the doctor's secret laboratory, look for his notes regarding the antidote, and create one yourself that can be brought back to the headquarters to be further analyzed. You have sixty minutes before the evil doctor returns and foils your plan!
Player Review
"A group of friends and I did Dr. K's Lethal Injection and it was one of the best escape rooms I've ever done! This one is definitely for the veteran group. We had 10 in our crew and we each still had plenty to do, no one was standing around idle. This room was no joke, though, our game master informed us that there is only about a 10-15% success rate and is their hardest one." Ryan (TripAdvisor)
This Milwaukee escape room experience will have you looking for an evil scientist's notes to make the antidote for a deadly virus!
Lately, organized crime has been on the rise in your city, and a famous casino seems to be the epicenter of this situation. It isn't quite possible to investigate the Syndicate operating the casino as a customer so, an agent from the MI6 decided to infiltrate the casino.
Suddenly, MI6 has lost all contact with the secret agent, so it looks like his cover has been blown. It's been a few days since the agent has gone missing, and MI6 can't seem to make contact. So they've turned to your team for help. Your team is the elite secret agent squad, and you're known for doing the impossible. You have decided to break into the facility, find the missing agent and track down the Syndicate responsible while you're at it.
But as soon as you enter the casino, you realize you've been ambushed as the doors lock behind you. Now you have sixty minutes to find the missing agent and figure out an exit strategy
Player Review
"We broke out of the casino with 57 seconds to spare! We had a mix of new and experienced escape room players, and our host Gabe was great at providing reassurances to a new player with questions about what to expect. The clues all took some good thoughts, and we did ask for a couple hints, but all of them are definitely solvable so again an overall great experience!" Evan (Yelp)
This escape room experience in Milwaukee lets you be an elite secret agent. Find your missing comrade and track down the Syndicate responsible.
You were almost late for your flight and boarded the flight just in time. The plane soared through the sky, and you heaved a sigh of relief. Suddenly, a man showed up and announced the plane had been hijacked. Everyone was in a state of panic, and you tried to resist the assailant. That's the last thing you remember!
You wake up and realize you've been blindfolded and handcuffed. Your mind goes into a state of panic! What happened? Where are you right now? As the fear clouded your thoughts, you heard other voices and realized that you're not alone! You somehow managed to get rid of the blindfold and handcuffs and realized that you'd been locked inside a small dark room.
It seems the Kidnapper is gone for a while. This is your chance to escape! Find the hidden clues and solve the puzzles to find a way out. You have sixty minutes to break out of the room before the Kidnapper returns and foils your plans.
Player Review
"I had been to a few escape rooms before but my husband and friends had not. We decided tonight was the night. Searched online and found these guys. Excellent experience. We did the Hostage room. We made it out in time. The employees were all friendly and kind. We will return. I hope you give it a shot!" Spartina (TripAdvisor)
This exciting Milwaukee escape room experience will have you at your wit's end. Get ready to embark on an exhilarating adventure!
Kids/Family Friendly Escape Rooms in Milwaukee
You have always thought your aunt was living an ordinary life. But today, things take a drastic turn as you learn the truth. Her life is anything but typical or peaceful. Her days have been strenuous and demanding as your cousins are looking to steal their mom's inheritance and even placed her in a retirement home so that they can get rid of her faster!
In grave danger, she has come to you, her favorite nieces and nephews, to enter her condo and retrieve a few personal belongings that mean a lot to her. There's not much time as she feels weaker and heartbroken every moment. Once a happy and thriving family has now turned into a hellhole full of conceit and greed.
You need to find the items and have them sent to her. But your cousins are hot on your tracks. You only have sixty minutes to get the belongings and to get out of her condo before they get to you. And if you're successful, your aunt will leave all her inheritance under your name!
Player Review
"Since I don't want to spoil anything, I'll be as vague as possible. I did The Apartment, and by working together, my team and I succeeded in getting out in under an hour, 57 minutes and 1 second. You have to spread out because if everyone works in one spot, you'll miss things. The clue master was helpful without giving out too many hints. Overall it was a fun experience!" Liz (Yelp)
This Milwaukee escape room has a dramatic storyline that'll keep you hooked till the very end!
Scary Escape Rooms in Milwaukee
You gain consciousness, and the pain in your head is killing you. What just happened? You remember being hit from behind, and everything went blank. You soon come to realize that you've been kidnapped! But even after coming to your senses, you cannot move or see as the kidnappers have blindfolded and handcuffed you. Luckily, you're not the only one being held hostage!
The kidnappers have left for a while. This little window of time is your chance to do something! You ask the other hostages to help you and break out together, and everyone agrees readily. First and foremost, you remove the blindfolds. Then, you must find a way to lose the handcuffs.
After you've gathered together, you must find a way to solve the puzzles and break out in sixty minutes before the kidnappers get back and foil your plans. Can you find a way to break out in time?
Player Review
"Putting the anxiety fears to rest, this was a blast! We did one of the hardest rooms, the kidnapping room. I won't give out any details because you ought to try it yourself! It's great for team bonding exercises or really putting your friendship with your close friends to the test. Takes a lot of cohesion to conquer the room and get out in time!" Eric (Yelp)
This top escape room in Milwaukee will let you experience being kidnapped and trying to break out. Can you save yourself?
Do you agree with our list? Engaged in any of these experiences? Share your thoughts and opinions in the comments section below. If you believe we missed out on any great experiences, share your suggestions, we'll make sure to consider them!