Best Escape Rooms in Tulsa!
7 Amazing Escape Room Experiences in Tulsa! We've included all kinds of experiences in our list, from horror and fantasy themed to family-friendly.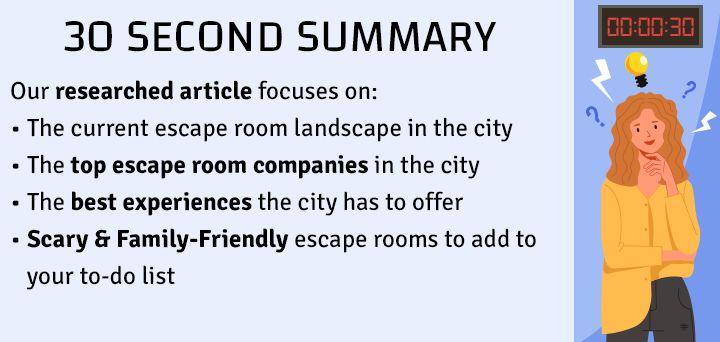 Escape Rooms let you step into a world of your choosing, where you are the hero of your own story (or the villain, if that's more like your thing!) Tulsa caught on to the Escape Room trend pretty quickly, expanding to have over thirty escape rooms in a short amount of time. The rooms transport the player into an alternate reality that is a refreshing change from the ordinary, mundane life.
We have come up with a list of 5 top-rated escape experiences and 7 best escape room experiences you cannot afford to miss the next time you are up for some fun. We put in hours of work with research, surveys, analyzing 5000+ reviews, and reaching out to the game masters themselves to make sure we put forward unerring experiences of the escape rooms, to help you make the right choice. Make sure you stick till the end because, as they say, the best always comes last! So if you want to take your creativity and intellect for a ride, read further!
Top Escape Room Companies in Tulsa
The Escape OKC LLC was established in 2015 by Andrew the Great. The games at Escape OKC are designed to be challenging and engaging and require team members to work in synchronization and union to ace them in time. The Escape Tulsa is also part of an organization named Keep It Local OK, an enterprise that gathers the locally owned and small businesses in one destination!
Here are the exciting games you can check out at the venue:
The Lost Antidote: A genius but mad scientist has poisoned the city's water supply and hidden the antidote to the deadly virus. Can you find the antidote in time and save countless lives?
Conquered Embassy: A Soviet mole has blown your cover and is on his way to damage your crucial operation. Identify the mole and stop him before its too late.
Area 405: You're in the middle of a Level 5 disaster at the Alien Containment Facility (ACF). The extra-terrestrials have started to be hostile. Can you protect the ACF's secrets and yourself?
Uptown Murder: This might just be the most bizarre crime scene you've seen. There are just so many questions and no answers. Your job is to decipher the clues and catch the killer.
Andy B's was established in 1974. The company is a veteran in the entertainment business. The brand currently offers escape rooms along with many other fun options such as Laser Tag, Bowling, Go-Karts, and arcade games. The games offered by the brand focus on creative problem-solving and teamwork skills to make a successful escape.
Here are the fun games you can enjoy at the venue:
Space Odyssey: Decode the message left behind by the missing captain and crew of Odyssey II before you are captured by others on the spacecraft. Make it fast! All that you have is just an hour!
Kidnapped: There has been a string of kidnappings. If you and your team don't solve the cases in an hour, the FBI will take over, tarnishing your reputation for good.
House of Dread: A dinner party with an old friend takes a turn for the worst. What awaits you and the other guests is creepy, at the very least. Find a way out, quick!
Opened in 2017 by a husband-wife pair. This one of the most non-standard escape rooms the country has to offer. At Eleventh Hour Enigma in Tulsa, the doors aren't locked and nobody is tied up. Instead, players work in teams to advance toward the exit by using only their brains!
As one of the five-star-rated escape rooms, the Eleventh Hour Enigma has got you covered on every count!
Here are the exciting escape rooms that you can check out at the location:
Tulsa Time: You have received an anonymous tip about a planned massive attack on the city. An abandoned warehouse lies in wait, and an hour is all remains. Can you save your beloved city?
Winchester's Widow: Sarah Winchester built a mansion of many dark secrets. You've receive a strange invitation to this spooky mansion. Will you discover the truth and make it out in time, or will you become history?
The Cairo Collection: The Heart is an ancient relic created by the Gods to unify the Egyptian people. Can you recover this timeless mythological treasure before it is too late?
Best Escape Rooms in Tulsa
Museum Heist: Xcape The Quandary
Diamond Gates from London has loaned the city museum to put some of her favorite art pieces on display for the weekend Exhibit. Liz and Rebekah are no strangers to the world of crime. When they received inside intel about the Museum security cameras being shut down for maintenance the night before the exhibition, they jumped into action with a plan!
Trusted sources have confirmed that they will have about sixty minutes to carry out the heist while the cameras are down for maintenance. That's normally sufficient time for them to get in and get out, but they also need you to know which art pieces are worth stealing in the first place.
As it turns out, you are the expert on the exhibition's Diamond Gates wing, and so this is where you will bring your talents into play. You will be going in and then breaking out through shipping and receiving. But know this! If anything goes south, it will be your mugshot alongside theirs.
Player Review
"Definitely one of the best escape rooms I've ever been to and would definitely recommend families or groups of friends or even couples to give it a try! They have some of the best staff I've seen in the escape room industry and rooms as well! Thank you guys so much for the much needed good time. I really appreciate it!"Korbin (Google)
This thrilling escape room in Tulsa will have you work alongside thieves to heist the museum's Diamond Gates exhibition.
After years of polluting the planet and turning a blind eye to climate change, Earth is no longer a habitable planet. All those years of exploitation have come to haunt humanity. Humans have now started looking for planets that could save mankind. A special exploration team has been assembled to take on this mission.
You are a member of the exploratory team of astronauts that have been dispatched to the far reaches of the galaxy. Your team has been tasked with finding a planet that has all the right conditions to sustain human life.
But suddenly, something seems to have gone wrong! You must solve a series of puzzles put in place by the computer system to find a way around the security protocols to get to the escape pod! You have sixty minutes to save yourself from the approaching catastrophe!
Player Review
"The rooms are well crafted and require some thought. Like any escape room, there's an element of you'll either get some critical elements or you won't. Luckily, we latched on to one major idea and glided to victory fairly quickly. The staff was professional and helpful, even giving us a coupon and keychain for completing our room! Great escape room spot for fans in Tulsa!"Justin (Yelp)
This epic Tulsa escape room will test your wits as you try to solve puzzles and find your way to the escape pod!
There is a huge party at your friend's house today, but as fate would have it, you've been sent to detention! You have to find a way to escape detention before the party's over.
A silver lining appears for you when your math teacher informs you that the clues that can help you escape have been hidden all over the room! The teacher had been dropping hints on how to escape out of here throughout his lecture.
He wanted to see who's been listening in class. Now you must recall all you can and solve the puzzles to get your hand on the key to get out of detention. You need to work quick; you only have 45 minutes!
Player Review
"The room was good, but 5 stars were truly earned by the staff! We have done a lot of escape rooms, and it has been a while since I have been so impressed with the staff running the room and establishment. They were all extremely friendly and entertaining! They were so great that we stuck around for laser tag after our room. This place is truly worth the visit for the rooms and staff. We will be back!"Kay (TripAdvisor)
This fun escape room in Tulsa will have you looking for clues that your math teacher has left to help you escape detention!
You and your friends are the founding members of the most notorious outlaw biker gang of the city, 'The Sons & Daughters of Hades'. Things have been going a little tough lately. Short on cash, you and your gang have been on a home invasion spree in the tri-state area for a few months now!
You've come across a huge mansion and you're absolutely sure this heist would bring in a great haul. After days of research, you have finally found a secret tunnel that leads you right into the mansion!
However, things go south when a load-bearing wall collapses, and your escape route is cut off. Your mission is to crack the safe, retrieve the cash, then deactivate the security systems and somehow manage to walk right out the front doors!
Player Review
"So much fun! I absolutely recommend this place to anyone in the Tulsa area. The plot was exciting and the staff did an incredible job of explaining everything from the reason behind the rooms, to the reasons behind the clues and even gives you clues along the way if you get stuck. Not to mention, the staff did such an amazing job of accommodating my party with us being late. Will be back for sure."Abbie (Yelp)
This top escape room in Tulsa will put you in the bad guy's position as you break into a mansion and proceed to loot the place!
The Alien Containment Facility (ACF) has been guarding state secrets for many years now but things have been getting out of hand. Now, you're in the middle of a Level 5 disaster. The off-the-record experiments have been getting increasingly dangerous lately!
The extra-terrestrial races have started to become more hostile lately. To make matters worse, something has just transpired in the lab, and you're sure it's nothing good. As you make your way to this restricted area, can you keep this information a secret from everyone but your team? You have sixty minutes to carry out your mission!
Player Review
"I love this place. This place is what I compare all other escape rooms I've been at too. The rooms are immersive, challenging, and the location is awesome. The staff is awesome and I wish someone would wipe my memory just so I could do their rooms again. Area 405 is my favorite for sure. Perfect place to bring your family and friends if you're looking to kill an hour (or less) of time."Bridget (Yelp)
This escape room experience in Tulsa will take you to an extra-terrestrial research facility that has gone astray and you must get things in order!
Scary Escape Rooms in Tulsa
Your uncle is an honest man who's never committed a crime in his life, but somehow he managed to infuriate some powerful people, and now they decided to come after him. Your uncle had been falsely accused and taken into custody.
No matter how hard he tried, he couldn't prove his innocence. You have spent weeks going through the evidence that could prove beneficial in your uncle's case.
He is scheduled to be executed, and you are now down to the last hour of your uncle's life. It's almost 11pm, and you still hope to find that one missing piece of the puzzle that can save him! You are sure of his innocence, and you have to find a way to prove it before he walks the gallows!
Player Review
"Went here with my girlfriend for a date. When you walk in the staff is friendly and welcoming. His family owned escape room cares about your experience and it shows in their hospitality and detail of the room. I highly recommend, especially if you've been to a crappy one in the past and want a better experience. And they told us a secret that they are creating another room. So check them out, you won't be disappointed."Eugene (TripAdvisor)
This escape room in Tulsa will have you searching for that one piece of evidence that can save your uncle from execution.
Kids/Family Friendly Escape Rooms in Tulsa
Dr. Stapleton, an evil scientist, has poisoned the city water supply! He has managed to infect every single citizen with a deadly poison!
No matter how hard the authorities tried, they couldn't get their hands on him. You have been asked to infiltrate the mad scientist's secret lab and look for the antidote.
You finally managed to break into Dr. Stapleton's lab, but the antidote has been hidden. You'll have to look for clues and solve the puzzles to get to the antidote. You and your team have sixty minutes to find the antidote and save the city from impending doom.
Player Review
"It was a lot of fun and they helped us when we needed it. We were one clue away from completing. They started us on the medium level. We probably should have done an easier one since it was our first time and we had a 10-year-old in our group that was lost most of the time. We also had three 13-year-olds and it was still challenging, without help we would have never gotten so far. I loved searching the rooms though!"Cheryl (Yelp)
This amazing escape room in Tulsa will have you confront the genius of a mad scientist and prove yourself as a hero by finding the antidote and saving the city!
Do you agree with our list? Engaged in any of these experiences? Share your thoughts and opinions in the comments section below. If you believe we missed out on any great experiences, share your suggestions, we'll make sure to consider them!