Best Escape Rooms in San Jose!
Top 10 Escape Room Experiences in San Jose! We've included all kinds of experiences in our list, from horror and fantasy themed to family friendly.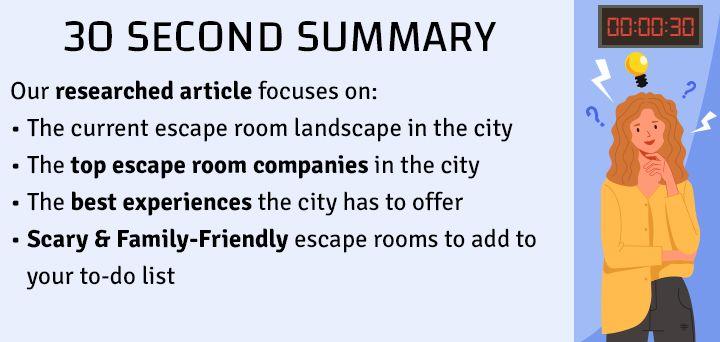 Escape rooms have emerged as a unique entertainment form that is fun and educational. Not only do people get to embark on adventures, but escape games also teach players essential life-skills.
San Jose offers 60+ escape experiences. These escape games transport the players to an alternate reality where they can let their imagination run wild.
We have come up with a list of 3 top-rated escape experiences and 7 best escape room experiences you cannot afford to miss the next time you are up for some fun. We put in hours of work with research, surveys, analyzing 5000+ reviews, and reaching out to the game masters themselves to make sure we put forward unerring experiences of the escape rooms, to help you make the right choice. Make sure you stick till the end because, as they say, the best always comes last! So if you want to take your creativity and intellect for a ride, read further!
Top Escape Room Companies in San Jose
Omescape was founded in 2014. The escape company offers games that require both using the senses and interacting with the immersive setting. Omescape was voted #1 Best Escape Room around the Bay Area by the U.S.A. Today. Their themes guarantee fun for friends, family, and team-building exercises.
Here are the games you can enjoy at the venue:
Kingdom of Cats: You have accidentally signed yourself up for a tournament to choose the wisest cat. Complete all tasks to escape being imprisoned forever!
Dark Altar: The head of the Copenheimer Museum is performing a ritual to give himself Godly powers. Can you stop the ritual in time?
Joker's Asylum: Unravel the Joker's evil revenge plan! You have 60 minutes before you become his victim.
Pandemic Zero: A deadly virus has infected the world! Find the entrance to a high-security lab and work on an antidote before humans are wiped off completely.
Sorcerer's Sanctum: Escape the magician's house by solving every puzzle that comes your way.
Breakout Studios was founded by game designers, storytellers, blockbuster movie makers, special fx makeup artists, game developers, set designers, and finance and marketing professionals. The escape company is passionate about delivering immersive entertainment that strengthens both the imagination and bonding between groups.
Through their games, Breakout Studios intends to celebrate innovation and technology being created in Silicon Valley.
Here are the adventures you can embark on at the venue:
Time Breaker Challenge: Complete the tasks created by the genius minds of science. Split into two teams and collaborate to solve the puzzles in 60 minutes.
War of Rogue Machines (W.O.R.M): Travel to the future where A.I. has taken control of the world. Your task is to destroy the A.I. by finding a worm-ridden USB.
The Father of Silicon Valley: Travel back in time to save the father of Silicon Valley! Find out who poisoned him and create an antidote, all in 60 minutes.
The Hacker of Silicon Valley: Travel to the future and find the encrypted code created by an anonymous hacker to be used for humanity's greater good.
Crimson Key Escape Room was established in 2018. The escape company offers uniquely designed escape rooms where great attention has been put to detail to ensure immersion. The live entertainment experience can be enjoyed by friends, family, or colleagues and can even prove useful for corporate team-building exercises.
Here are the games you can enjoy at the venue:
Apartment 408: The murder cases in Hill Town are increasing day by day. Investigate the mysterious disappearance of your best friend? Will you somehow become the next victim?
The Breakout Club: Sneak into a teacher's office to turn your bad grades into better ones! You have 60 minutes to pull this task off.
Best Escape Rooms in San Jose
Joker was once the pride of the circus he worked for! People would come from all over to look at him perform because he indeed was a fantastic showman. He loved being in the spotlight, but suddenly things started to go south. As trouble stirred and the circus went under, Joker left and confined himself behind the walls of an asylum made by him and his doctor. Joker had completely blocked out the rest of the world and made the asylum his home. But one day, he decided to leave, and he wanted revenge.
As the doctor escaped from the facility, he left behind a diary that contained some of Joker's deepest and darkest secrets! You have been tasked to infiltrate the facility and retrieve the journal, but things aren't simple anymore. The Joker has found out about your plan! You must unravel the mystery and make it out of the asylum before Joker gets to you. You have sixty minutes to complete your task.
Player Review
"My husband and I have done over 15 escape rooms, and Joker's Asylum is definitely somewhere at the top of that list. The puzzles were decently complex and definitely required teamwork, which I appreciated. I also enjoyed the fact that not everyone needed to be huddled around one puzzle at a time; in fact, we were told that one of the keys to escaping is to split up to solve puzzles." Jennifer (Yelp)
This San Jose escape room experience will have you infiltrate an asylum and unravel the Joker's secrets! This one is a must for all the D.C. fans.
The world's most valuable diamond is about to be put on display in the museum. The sheer brilliance and stature of the diamond are off the charts. It truly is a beauty to behold. And when something so precious and beautiful is about to be put on display, it's bound to attract the wrong crowd. The world's most notorious thief, The Big Boss, has set his eyes on the diamond. He has decided to steal the jewel on the night of its unveiling.
But stealing something as valuable as that isn't an easy task. The Big Boss has asked you and your team to assist him with the heist. He has left you an encrypted message detailing all the instructions for your group of specialists to gain access to the diamond! You must decipher his message to complete your mission. You have sixty minutes to complete this task and if you were to fail, get ready to face The Big Boss!
Player Review
"Really awesome Diamond Heist theme! Without giving too much away, there are multiple rooms to go through and there is indeed a diamond room with lasers. Having to hide from the security guard who occasionally comes by is a nice touch. Loved the experience, we didn't end up solving it (we only got about halfway) but we definitely want to come back" Bee (Yelp)
The Heist Escape Room experience will give you a major Oceans Eleven throwback! Decipher the message to steal the diamond.
Room 2217
You and your fiancé have been together for years now. A few months ago, you gathered courage and popped the question, and she said yes! Everything was going perfectly as you and your fiancé were happy, but suddenly she went missing! No matter what you tried, you couldn't find a clue about her location. You were heartbroken and sad when suddenly you got a mail with a key card inside and a letter stating your fiancé location!
You rushed to the hotel and swiped open room 2217 with the keycard in your possession. You entered the room, hoping to find your fiancé, but you were greeted by something else. You receive a message stating that you'll have to murder a hotel guest to save her life!
You have sixty minutes to figure out a way to save your fiancé without committing the heinous crime. If you fail to solve the mystery, you'll have to bid your fiancé farewell.
Player Review
"Great experience with room 2217 today! Went with a few friends and only one of us has played escape room games before. We found the instructions and the staff very helpful. The story plot and puzzles are set up nicely with a good balance between intellectual challenging and not too confusing. Will definitely recommend for friends gathering and/or team building event!" Rachel (Yelp)
This Cubic Escape Room San Jose experience will put you through your paces. Will you murder someone to save your loved one?
Humankind was shaken to its core when a catastrophe had never been seen before befell the planet. A virus was released from an unknown location, which slowly started affecting a few people initially. Suddenly the number of patients increased exponentially, and then came the point when hospitals just gave up. The world is in ruins, and the very existence of humankind remains in a state of uncertainty.
95% of the population has been affected by the virus. You are among the remaining survivors who are in dire search of a ray of hope! Out of the blue, you hear about a secret lab that has the antidote for the virus!
But this won't be a walk in the park. You won't be able to find the lab easily because of a citywide quarantine. You must make your way through the sewer system to get to the lab and procure the sinister virus's antidote.
Player Review
"We did Pandemic Zero and managed to finish! Compared with the other escape adventures we did in San Francisco, this one is definitely more challenging and required all of us to work together to solve the puzzles. Some of the puzzles require thinking out of the box while others were more logic based. I like the variety of the challenges and the hints came at the perfect timing for us." Mimo (TripAdvisor)
This Omescape escape room will put you right in the middle of a post-apocalyptic world!
Colonel Blaylock has created the ultimate challenge for all those who claim to be geniuses! The greatest minds of science have designed a series of challenges for people who wish to join the coveted Time Breakers Force.
Transport back to the past and prove that you deserve a position in the team. Divide yourselves into two groups, collaborate, communicate, and use your problem-solving skills to the best of your abilities.
Do you think you can qualify and earn a chance to be a part of the legendary task force in just 60 minutes?
Player Review
"The attention to detail is clear as soon as we entered the lobby, where the decor and props were amazing. Our group did the Time Breaker Challenge, and the rooms were really well done. They looked authentic to the time period. The puzzles were challenging and required collaboration. Everyone got involved and help complete the "challenge". We all had a great time. I would highly recommend Breakout Studios!"Matt L. (Yelp)
This Breakout Studios escape room will put your wits and wisdom to the ultimate test! Are you ready?
Scary Escape Rooms in San Jose
Prepare to take a journey back in time to 1956. After the unexpected time-travel, you came to your senses, and questions ran through your head when suddenly, you heard a voice. A speaker inside the room boomed with a man's voice. The man introduced himself as a scientist specializing in the human psyche, and as he explained the situation, you realized you'd been kidnapped.
You're stuck in a padded room all by yourself. You have been used as a guinea pig in a mind-control experiment. Suddenly, there's a significant situation in some other part of the institution which makes the scientists run off to that location. This is your chance to get out!
Solve the mystery and find the clues to break out of the room! The walls are closing in. and you have sixty minutes before the scientists return and foil your plans.
Player Review
"We chose the Insane Asylum room, because we were hoping for a spook, and boy did it deliver! Very spooky atmosphere, we got creeped out quite a few times. The puzzles are very creative and interesting, but quite challenging. We needed to use all three clues and didn't quite make it within the time limit, so I would suggest only escape room veterans attempt this room." Destiny (TripAdvisor)
This scary escape room experience will throw you in a mind-control experiment. Can you break out in time, or will you become another lab rat?
Kids/Family Friendly Escape Rooms in San Jose
Unfortunately, your hard work is not paying off! Even after burning the midnight oil day after day, you and your friends have got bad grades on your assignments. To make matters even worse, you have been given detention with an evil and snarky teacher, Ms. Babbage.
Luckily, all hope is not lost! You and your friends have come up with an excellent idea to escape detention and turn your bad grades into good ones!
You plan to sneak into Ms. Babbage's office and change your grades while she is out. You have 60 minutes to save yourselves from boring detention. Will you be caught? Or will this be a sweet school memory?
Player Review
"Crimson Key is such a fun and entertaining experience! We have done tons of escape rooms and this one is the most memorable and enjoyable by far! We did both rooms (Apt 408 and Breakout Club) and found these to be challenging, stimulating, and captivating! The rooms were incredibly well thought out and thrilling. The owners were wonderful and attentive. It was such a great time and we can't wait to come back!" Millie J (Yelp)
Bask in the nostalgia of being naughty school children! This Crimson Key escape room experience will test your wits through a gripping storyline!
Do you agree with our list? Engaged in any of these experiences? Share your thoughts and opinions in the comments section below. If you believe we missed out on any great experiences, share your suggestions, we'll make sure to consider them!