Best Escape Rooms in San Jose!
Top 10 Escape Room Experiences in San Jose! We've included all kinds of experiences in our list, from horror and fantasy themed to family friendly.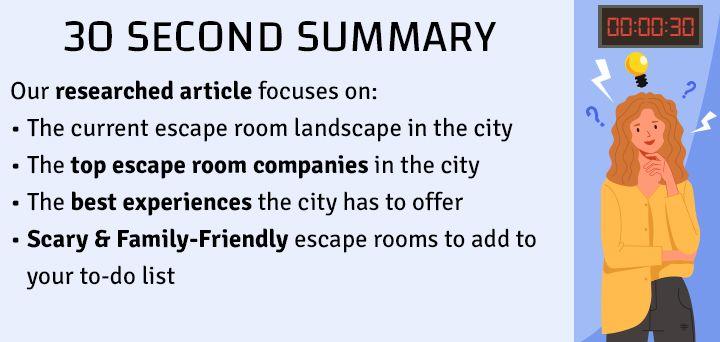 Escape rooms have emerged as a unique entertainment form that is fun and educational. Not only do people get to embark on adventures, but escape games also teach players essential life-skills.
San Jose offers 60+ escape experiences. These escape games transport the players to an alternate reality where they can let their imagination run wild.
We have come up with a list of 3 top-rated escape experiences and 7 best escape room experiences you cannot afford to miss the next time you are up for some fun. We put in hours of work with research, surveys, analyzing 5000+ reviews, and reaching out to the game masters themselves to make sure we put forward unerring experiences of the escape rooms, to help you make the right choice. Make sure you stick till the end because, as they say, the best always comes last! So if you want to take your creativity and intellect for a ride, read further!
Top Escape Room Companies in San Jose
Omescape was founded in 2014. The escape company offers games that require both using the senses and interacting with the immersive setting. Omescape was voted #1 Best Escape Room around the Bay Area by the U.S.A. Today. Their themes guarantee fun for friends, family, and team-building exercises.
Here are the games you can enjoy at the venue:
Laboratory Of Biohazard: The NYPD has just obtained information that Dr. Snake has built a secret laboratory in the sewage system of the city. You are the only hope to find the cure to the neuro-toxin before he returns.
Room X: Can you enter the room X to set the time machine right? They time travelers are all struck back in the time! Find the keys and set things right soon!
The Penitentiary: The penitentiary is known as the night stalker and is also the serial killer of the history! No matter what you hear or see, all you need to do is escape!
Breakout Studios was founded by game designers, storytellers, blockbuster movie makers, special fx makeup artists, game developers, set designers, and finance and marketing professionals. The escape company is passionate about delivering immersive entertainment that strengthens both the imagination and bonding between groups.
Through their games, Breakout Studios intends to celebrate innovation and technology being created in Silicon Valley.
Here are the adventures you can embark on at the venue:
Time Breaker Challenge: Complete the tasks created by the genius minds of science. Split into two teams and collaborate to solve the puzzles in 60 minutes.
War of Rogue Machines (W.O.R.M): Travel to the future where A.I. has taken control of the world. Your task is to destroy the A.I. by finding a worm-ridden USB.
The Father of Silicon Valley: Travel back in time to save the father of Silicon Valley! Find out who poisoned him and create an antidote, all in 60 minutes.
The Hacker of Silicon Valley: Travel to the future and find the encrypted code created by an anonymous hacker to be used for humanity's greater good.
PanIQ Escape Room is the ultimate destination for immersive and thrilling escape adventures. Step into a world where creativity meets challenge, and teamwork is the key to success.
Stories are redefined entertainment by blending interactive storytelling with mind-bending puzzles, creating an adrenaline-pumping experience for friends, families, and corporate teams alike.
Perfect Crime: Can you and your group of brilliant investigators shed new light on the truth? Find out now by booking your escape room experience!
Wild West: Can you and your fellow outlaws escape from the jail cell in the wild west as the Sheriff is out for a ride and left his key in the room? Find out now by booking your escape room experience!
Insane Asylum: Can you find the medicines needed to restore your senses before finding your way out of this living nightmare before your mind is lost forever? Find out now by booking your escape room experience!
Atlantis Rising: Can your team of archeologists gain access to the ruins and find its treasure before the city disappears once more? Find out now and book your escape room experience!
Best Escape Rooms in San Jose
You are all gathered for the reading of Grandma Edna's will and learn she had never written it down! She was paranoid that conniving relatives would create a forgery.
This prompted her to leave cryptic clues in her attic for you to decipher.
You have 60 minutes to discover her secrets, leading to a surprising inheritance! Hurry! Greedy relatives will arrive soon!
There are metaphysical items in the attic, such as Ouija board on the wall and tarot cards.
Enter at your own risk!
Do you have what it takes to decipher all the crytic clues Grandma Edna left in her attic and get led to a surprising inheritance?
This is your chance to find out! Book an escape room at Beat the Lock today!
Player Review
"This was my first escape room and SO MUCH FUN! The hostess was amazing, the story line was great, the attic decorations were cool, and the puzzles were challenging. However, we beat the lock with 5min to spare!! I highly recommend this to anyone." Susan Fortson-Gardner (Facebook)
This San Jose escape room experience will have you infiltrate an asylum and unravel the Joker's secrets! This one is a must for all the D.C. fans.
The world's most valuable diamond is about to be put on display in the museum. The sheer brilliance and stature of the diamond are off the charts. It truly is a beauty to behold. And when something so precious and beautiful is about to be put on display, it's bound to attract the wrong crowd. The world's most notorious thief, The Big Boss, has set his eyes on the diamond. He has decided to steal the jewel on the night of its unveiling.
But stealing something as valuable as that isn't an easy task. The Big Boss has asked you and your team to assist him with the heist. He has left you an encrypted message detailing all the instructions for your group of specialists to gain access to the diamond! You must decipher his message to complete your mission. You have sixty minutes to complete this task and if you were to fail, get ready to face The Big Boss!
Player Review
"Really awesome Diamond Heist theme! Without giving too much away, there are multiple rooms to go through and there is indeed a diamond room with lasers. Having to hide from the security guard who occasionally comes by is a nice touch. Loved the experience, we didn't end up solving it (we only got about halfway) but we definitely want to come back" Bee (Yelp)
The Heist Escape Room experience will give you a major Oceans Eleven throwback! Decipher the message to steal the diamond.
You and your fiancé have been together for years now. A few months ago, you gathered courage and popped the question, and she said yes! Everything was going perfectly as you and your fiancé were happy, but suddenly she went missing! No matter what you tried, you couldn't find a clue about her location. You were heartbroken and sad when suddenly you got a mail with a key card inside and a letter stating your fiancé location!
You rushed to the hotel and swiped open room 2217 with the keycard in your possession. You entered the room, hoping to find your fiancé, but you were greeted by something else. You receive a message stating that you'll have to murder a hotel guest to save her life!
You have sixty minutes to figure out a way to save your fiancé without committing the heinous crime. If you fail to solve the mystery, you'll have to bid your fiancé farewell.
Player Review
"Great experience with room 2217 today! Went with a few friends and only one of us has played escape room games before. We found the instructions and the staff very helpful. The story plot and puzzles are set up nicely with a good balance between intellectual challenging and not too confusing. Will definitely recommend for friends gathering and/or team building event!" Rachel (Yelp)
This Cubic Escape Room San Jose experience will put you through your paces. Will you murder someone to save your loved one?
Step foot into the NURSERY. You are among the elite few capable of corralling the spirits within the abandoned room. But to eradicate the supernatural, you must first know what you're dealing with.
Utilize your spectral equipment to uncover & eradicate the ghost currently roaming the Nursery. But work quickly, lest the spirits latch on for life…
Enter at your own risk! You only have one chance, or the spirits will be after you!
Can you use your spectral equipment to uncover and eradicate the ghost? Do you have what it takes to face the ghost and complete this mission?
This is your chance to find out! Book an escape room at EDscapade Games today!
Player Review
"We played The Nursery and it was an incredible experience!! It was scary enough to get my heart racing but so fun. It's a great bonding experience. The room was very well-designed with great puzzles and a number of surprises. I've never played a game like this before and I'm excited to come back again soon!!" Stuti A. (Google)
This EDscapade room will put you right in the middle of a post-apocalyptic world!
Colonel Blaylock has created the ultimate challenge for all those who claim to be geniuses! The greatest minds of science have designed a series of challenges for people who wish to join the coveted Time Breakers Force.
Transport back to the past and prove that you deserve a position in the team. Divide yourselves into two groups, collaborate, communicate, and use your problem-solving skills to the best of your abilities.
Do you think you can qualify and earn a chance to be a part of the legendary task force in just 60 minutes?
Player Review
"The attention to detail is clear as soon as we entered the lobby, where the decor and props were amazing. Our group did the Time Breaker Challenge, and the rooms were really well done. They looked authentic to the time period. The puzzles were challenging and required collaboration. Everyone got involved and help complete the "challenge". We all had a great time. I would highly recommend Breakout Studios!"Matt L. (Yelp)
This Breakout Studios escape room will put your wits and wisdom to the ultimate test! Are you ready?
Scary Escape Rooms in San Jose
Prepare to take a journey back in time to 1956. After the unexpected time-travel, you came to your senses, and questions ran through your head when suddenly, you heard a voice. A speaker inside the room boomed with a man's voice. The man introduced himself as a scientist specializing in the human psyche, and as he explained the situation, you realized you'd been kidnapped.
You're stuck in a padded room all by yourself. You have been used as a guinea pig in a mind-control experiment. Suddenly, there's a significant situation in some other part of the institution which makes the scientists run off to that location. This is your chance to get out!
Solve the mystery and find the clues to break out of the room! The walls are closing in. and you have sixty minutes before the scientists return and foil your plans.
Player Review
"We chose the Insane Asylum room, because we were hoping for a spook, and boy did it deliver! Very spooky atmosphere, we got creeped out quite a few times. The puzzles are very creative and interesting, but quite challenging. We needed to use all three clues and didn't quite make it within the time limit, so I would suggest only escape room veterans attempt this room." Destiny (TripAdvisor)
This scary escape room experience will throw you in a mind-control experiment. Can you break out in time, or will you become another lab rat?
Kids/Family Friendly Escape Rooms in San Jose
The spy room for kids is the sneak into the suspecting neighbor's house who is a spy! But you are locked in here! Find the key and escape before he returns!
Suspecting your neighbor is a spy, you and your friends sneak into his home to see what he is up to. As you step inside, an unmistakable sound is heard behind you.
The door has slammed shut and you are trapped! You have 60 minutes to gather clues, decipher codes and solve puzzles in order to find the key to unlock the door and escape before the spy returns!
Do you have what it takes to find the key to unlock the door and escape before the spy returns?
Player Review
"We had our daughter's 10th birthday at Beat the Lock and everything was perfect! They adapted the room to fit the younger age group and the best part was that there were multiple rooms so all 14 girls were able to do it together in two roomsvand compete against each other. The spy theme was fantastic with the clues and riddles to solve and they loved it! The booking process and staff were super friendly and we cant wait to do another one soon! It is perfect for kids!!" Shital K. (Yelp)
Bask in the nostalgia of being naughty school children! This Beat the Lock escape room experience will test your wits through a gripping storyline!
Do you agree with our list? Engaged in any of these experiences? Share your thoughts and opinions in the comments section below. If you believe we missed out on any great experiences, share your suggestions, we'll make sure to consider them!