Best Escape Rooms in Phoenix!
With so many Escape Room Phoenix,are you lost to find your perfect escape? Look no further. Check these 15 must-do rooms for a mind-blowing time in Phoenix!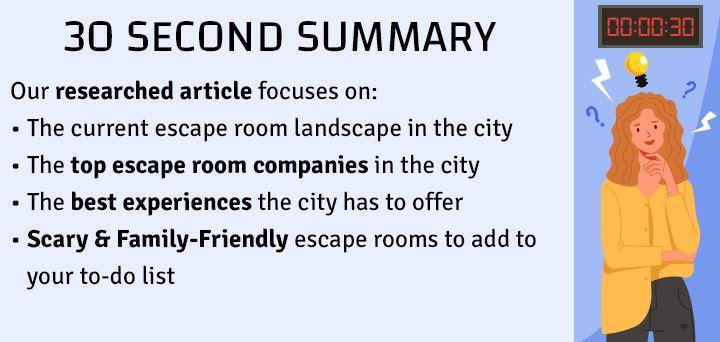 The concept of escape rooms has been gaining a lot of traction all over the US and Phoenix is no exception. With over 140 escape experiences, the city caters to every genre one can think of.
We have compiled a list of the top 5 escape companies and 10 epic escape room experiences you can't afford to miss the next time you're in Phoenix and up for something fun! We put in hours of work with research, surveys, analyzing over 14,000+ reviews, and reaching out to the game masters themselves to make sure we put forward unerring experiences of the escape rooms, to help you make the right choice.
Make sure you stick till the end because, as they say, the best always comes last! So if you want to take your creativity and intellect for a ride, read further!
Top Escape Room Companies in Phoenix
Escape Zone was established in November 2015 by a group of escape enthusiasts. The escape company focuses on providing high-quality escape games at an affordable price. The puzzles have been designed in parallel rather than a linear play. So, everyone has something to do in the room while being fully immersed in the game.
The company offers a 16-person competitive room, a 4-person double date room, a family-friendly 8-person room, and a uniquely designed 8-person room!
Here are the adventures they offer:
The Island: Groups are split in this competitive game! Form tribes because the Volcano Fire Goddess demands the sacrifice of a tribe!
Jail Break: You have been put behind bars for a crime you didn't commit! Can you escape in 60 minutes?
The Attic: You are locked in an attic that will come to life in 60 minutes! Can you save yourself?
Rush Hour: An angry metro worker is steering the train to the end of the line? Can you stop the train within 60 minutes and save the passengers' lives?
Escape Games is a family-run business that was established in 2016. Located in the heart of Mesa, this escape room has gained a loyal audience of escape room enthusiasts. They ensure that their games aren't too physically taxing so people of all age groups can have a great time.
Here are the games you can be the hero of:
The Condo: Your aunt has asked you to retrieve a few essentials from her condo. However, she didn't live an ordinary life… You have 60 minutes before this task puts your life in peril!
Quest For The Throne: You were the heir to the throne but have been wrongfully exiled! Sneak into the king's study and prove your innocence!
The Bake Off: Find the missing ingredient to compete in the national bake-off's final round. Remember, you have 60 minutes!
Monkey Business: Your uncle has played a little prank on you while babysitting! He has hidden the monkey your little sister can't sleep without! You have 60 minutes to locate the toy before your parents return!
Blaine's Basement: Blaine is a serial killer, but the FBI does not have enough evidence against him! You have an hour to scour his basement and gather evidence!
Eludesions Escape Game is a veteran-led escape company. They offer custom-made rooms so that people of all ages and capabilities can enjoy a fun escapade. They welcome players to host all kinds of events at their venue. Escape The Roomz presented the company with the title of being in the Top 100 Escape Room in the entire country in 2019.
The Eludesions Escape Room venue looks precisely like a castle in the present day and age. The establishment looks impressive with its enormous wooden doors yet subtle walls and hanging lights.
Here are the adventures you can choose from at this castle:
Escape From OZ: A wicked witch has stolen all gifts that the Wizard of Oz bestowed on Dorothy and her friends! Can you retrieve them in 60 minutes?
Runestone: An evil wizard has stolen a powerful stone and intends to extinguish the sun! Can you recover the stone from his lair within 60 minutes?
Operation: Counterpart: Indulge in a spy-themed escape game! Find the electronic suitcase hidden in the high-security location!
Case File X: As a team of journalists, retrieve a case file about Area 51 hidden in a discreet bunker! You have 60 minutes to find the valuable information!
Mad Hatter's Tea Party: You are at the Mad Hatter's Tea Party, and this wonderland is getting crazier by the second! Escape before you lose yourself in this madness!
The Painter's Collection: A young witch is trapping souls into paintings! Step into this escape room game for a haunted experience!
Alcatraz Escape Games successfully runs three locations. Their first location was established in 2016 in Draper. They have now opened their doors in Phoenix and Lindon, which offer high-end production in their escape rooms. Their games also include actors to make the experiences incredibly realistic!
The expansive establishment has a comfortable waiting area, and the reception is designed like a prison!
Here are the games they offer that can polish your escape skills:
Zombie Panic: It is the Zombie Apocalypse! You are safe, but not for long! Zombies surround you. Can you break out of this Alcatraz escape room before you are infected!
The Row: You are awaiting your execution on the electric chair! However, there still is hope. Can you escape in 60 minutes?
Wizard Hysteria: You are trapped in a castle! Escape from the evil wizard's wrath before it's too late!
Escape Chandler is a family-owned business that was established in 2017. As a family of escape enthusiasts, they have put a lot of effort into building immersive escape rooms. They offer exceptional customer service and spacious rooms that are suitable for all ages.
You can embark on the following adventures at this exciting Chandler escape room:
Pawn Shop: Brad wanted to exchange a laptop he found in an Uber in a pawn shop! However, he is informed that it conceals diamonds worth $2 million! Can you help him before he gets into trouble?
Tony's Bistro: Tony hired a hitman, Rocco Calzone! Rocco has been arrested, and now he's ratting everyone who was involved! Can you save Tony by clearing the evidence from his Bistro?
The Cabin: You find your friend lying dead in a cabin while you're on a camping trip! Find a way to contact the authorities before you suffer the same fate!
Kate's Motel: Unravel the gruesome secrets of Kate's Motel! Hurry! You have 60 minutes before Kate returns, and you fall into her list of victims!
Best Escape Rooms in Phoenix
You and your friends are a group of agents trying to apprehend a terrorist who goes by the name 'Marcin.'
You have just received information about a potential bomb blast! Marcin plans to blow up the dam and flood the whole city. If he successfully executes his vicious plot, millions of people's lives will be in danger! He needs to be stopped.
You and your team need to find the possible blast location. While trying to find any leads on the information, you end on a boat. To investigate, you and your fellow agents step into the ship only to have the door close behind you. You do find about the bombs' location, but it's no use if you can't get out in time.
Marcin is crafty and has rigged the room with riddles and puzzles. You have one hour to foil his plans. If you fail, the dam will collapse and flood the city!
Player Review
"This was our first experience with an escape room, and we had the most amazing time! We decided to go as a family for my daughter's 16th birthday, and we let her choose the room. She chose Flood the City because she said it sounded the most 'interesting'. There were five of us, and the game was definitely difficult, but we escaped with only minutes to spare"- Christa (Yelp)
This Phoenix escape room will push your buttons. Can you keep calm under pressure and save the city from the approaching catastrophe?
While looking for adventure, you and your friends find an abandoned ship to explore.
You get on board and start looking around the fascinating contraption. Suddenly you feel a tug and realize that while you were rummaging around, the ship set sail! Now you and your friends are stuck inside the captain's quarters.
The room is made to look exactly like a pirate captain's quarters. There must surely be a way to break out of this place! You and your friends must solve the puzzles and figure out the clues before the crew finds out about you.
If found hiding in the captain's room, you and your team will be made to walk off the plank into the sea. Will you break out of the room, or will you drown in the ocean?
Player Review
"Fabulous experience! From my call in to schedule, to getting signed in to actually taking on the challenge of the Captains Quarters I had nothing but excellent service! The property was very clean and nicely setup and the room was very fun and challenging! We actually made it out with a little over two minutes left before we would have been walking the plank!"- April (Yelp)
This escape room in Phoenix is for all the Pirates of the Caribbean fans. Find a way out or get thrown off the ship!
You are an investigative journalist working for the renowned newspaper Daily Trumpet.
A few weeks ago, your newspaper was contacted by an undercover FBI field agent. He told a story about a terrorist organization called Sons of Sahar, planning an attack on American soil. He said to you that someone in the FBI was 'letting this happen.'
After analyzing the story, you and your team agree to meet the agent in person at a remote restaurant. When you arrive at the rendezvous point, men in black masks jump the restaurant and take you hostage. You wake up and find yourself imprisoned in a cell with a note from the FBI agent: 'Sorry things have turned out this way… I'll lure the sentry out with a story, but it won't hold long'.
You and your team must recover the terrorist's action plan and get out of there within sixty minutes.
Player Review
"JC was the best! Our group came in and played 'the cell'. This was all of our first experiences at an escape the room type of game. We had so much fun! We will be back again! Not only was she a great hostess to our game but ultimately came to our rescue! And we have already been telling all our friends what a great experience we had."- Stiletto (Yelp)
This escape room game has a very engaging storyline that'll keep you and your team engrossed until the end.
An Ancient Mayan tomb was unearthed recently. Various groups of excavators went into the tomb searching for artifacts.
Unfortunately, the commotion has disturbed the gods, and the devastation has begun. You and your team of archaeologists are on a mission to place all the precious artifacts back where they belong before it is too late.
You must navigate through the tomb with caution, for you may face the gods themselves! Watch your step, as the tomb conceals caves and tests that must be overcome to restore the god's trust in humanity. This escape room has an extraordinary detail level and includes strobe lights, aromas, and fog effects!
You and your fellow archaeologists have sixty minutes to complete the mission, and if you fail to get ready to face the wrath of the gods!
Player Review
"Everyone had a great time, everyone pitched in. Can't say enough great things about how terrific the lost tomb was. The puzzles were smart, super cool, and made it fun for everyone in the family. A great father's day outing. Thank you to everyone at Escape Westgate for making a fantastic day out."- RJ (Yelp)
This room escape has the latest technologies incorporated into the experience to make it incredibly immersive!
The greatest threat to the planet and our very own existence has been and will always be the possibility of a nuclear war.
This threat was solely limited to a nuclear war, but hackers can get into military servers with the advent of computers and gain access to nuclear warheads. A criminal has done precisely this and has in his possession the launch codes to an arsenal of nuclear warheads aimed at the world's superpowers.
You are the best and brightest the FBI has to offer! You have been summoned to decode the clues and puzzles found in possession of the hacker. You have exactly sixty minutes to decipher the enigma and save the planet from a nuclear holocaust!
Player Review
"We had an amazing time! We did the nuclear room. It took us nearly the full hour, but we saved the world. So, you're welcome. The staff was very engaging and helpful for the clues we needed. I believe the man's name was vince and he was awesome. The room was well put together. Thank you! We will absolutely be back!"- Jess (Yelp)
This escape game will test your nerves. Can you keep your wits about you when the weight of humanity's existence is on your shoulders?
You and your friends are part of one of the biggest crime syndicates in the country!
And when it comes to cracking safes and picking locks, you're the best in the business! In this game, you and your team will face your greatest challenge yet. Your crime organization plans to break into one of the major league casinos in town.
It's not as simple as just breaking in. You can't let anyone notice about the infiltration. You and your team will have 55 minutes to break into the casino, find the vault, and grab all the money. After that, the security system will reboot, giving you just 5 minutes to escape before the law enforcement or, even worse, the casino security catches you.
Do you have what it takes to pull of this heist?
Player Review
"This was an absolute blast. The staff were super helpful and accommodating and very patient with us. We did the Casino Heist with 4 adults and brought my 6 year old nephew. The room was just the right amount of challenging to be super fun, and the 6-year-old had a great time helping out. Can't wait to go back and try another room."- Parley (Yelp)
This heist escape room is designed like a casino. Here's your chance to break in and rob the place penniless!
Japan's most influential families, business people, and soldiers had been waiting for this moment for over a hundred years.
Tokugawa Yoshinobu, the greatest Shogun, voluntarily handed over all of his power to the Emperor. However, the Emperor abused Yoshinobu's power and brought Japan into decline! Now the time has come to resurrect the Shogunate!
You have been hired by one of the three most influential families! You and your team are tasked to find and re-assemble Tokugawa's armor to activate his secret followers' society. This group of people in Japan wait for this sign for more than a decade to regain control of the Japanese empire.
Help the Shogunate defendants get back in power and save the Japanese kingdom from the brink of destruction!
Player Review
"Did the Samurai room here with 2 friends, wow, what a fantastic room! Without giving too much away, the room is completely not linear, which is great. These are some of the most cleverly well designed puzzles I've ever seen. Please note this is a small room, I think anything more than 5 would be too many. very much look forward to coming back to do more rooms here!"- Jacob (Yelp)
This escape room in Phoenix Arizona will take you back to the shogun era of Japan! It's nothing like you've ever experienced before.
Hidden deep in the woods lies a cabin once inhabited by witches.
Don't jump to conclusions, though! These witches were tasked to guard humanity from the rise of vampires. Unfortunately, the witches have vanished, and the protection spells they used to keep vampires at bay are wearing off!
You and your team stumbled upon the cabin. You find out about the protection spell, and now that it's wearing off, the vampires are gaining more power. You must decipher the clues in the cabin to find the secret lair of vampires and slay the king before he rises once again.
If you fail to do so, the king of vampires will gain his power back and jeopardize the very existence of humanity!
Player Review
"Our high school teens loved the Spellbound room and had a blast working together to almost finish the puzzle! Utilising skills the teens have been working on throughout the school year; communication, critical thinking, group problem solving! We appreciate the opportunity to experience this escape room and are grateful for the fun and educational afternoon!"- Pamelle (Yelp)
This escape room Phoenix AZ will take you on an adventure to a fantasy world of witches and vampires.
Scary Escape Rooms in Phoenix
There's been a series of horrible murders in your city!
The Federal Bureau of Investigation was able to apprehend the major suspect, but they don't have enough evidence to put him behind bars for good. With the holding time running out, the FBI can't keep Blaine in questioning for any more than an hour.
The lead investigator of the case is helpless and has asked your team of mediums for help. You and your team have to search Blaine's basement for any clues or evidence that can link him to the murders. You have sixty minutes to decode the clues and gather evidence against the psycho serial killer. You need to put him behind bars at all costs.
Beware! This escape room is very frightening so contemplate before you take up the challenge.
Player Review
"My wife and I took a couple friends here for their first experience with an "escape room." We went into "Blaine's Basement" and I was floored. The clues were cryptic, the solutions were clever, and the atmosphere was creepy. We had such a blast working through the puzzles. I can't recommend it enough. Do yourself a favour and try this unique escape experience"- Mallowpact (TripAdvisor)
This scary escape room experience allows you to put a serial killer behind bars.
Kids/Family Friendly Escape Rooms in Phoenix
You have always thought your aunt was living an ordinary life.
But today, things take a drastic turn as you learn the truth. Her life is anything but typical or peaceful. Your cousins are looking to steal their mom's inheritance and even placed her in a retirement home so that they can get rid of her faster!
In grave danger, she has come to you, her favorite nieces and nephews, to enter her condo and retrieve a few personal belongings that mean a lot to her. You need to have them sent to her. But your cousins are hot on your tracks. You only have sixty minutes to get the belongings and to get out of her condo before they get to you.
If you're successful, your aunt will leave all her inheritance under your name!
Player Review
"This was our first time trying an escape room and it was so much fun. We had our 2 grown sons and teenage daughter and it was a great challenge for all of us. Walking distance to several good restaurants too, so made for a perfect family night out.We did Aunt Edna's Condo. The puzzles were tough...thank goodness for our smart kids LOL We were very impressed at how well thought out the room was and staff was welcoming and helpful. We had to get 2 clues, which came quickly, but still shy of escaping by about 1 minute. That was devastating...so close. MUST GO BACK! Excited to plan another night and try another room."Hollylama (TripAdvisor)
This escape room has a dramatic storyline that'll keep you hooked till the very end. Head over to this kid-friendly escape room!
Do you agree with our list? Engaged in any of these experiences? Share your thoughts and opinions in the comments section down below. If you believe we missed out on any great experiences, share your suggestions, we'll make sure to consider them!