Best Escape Rooms in Chicago!
Best Escape Room Companies near you, Award-winning escape room experiences, FAQs, Chicago Escape Room Research Insights and more… Level up your experience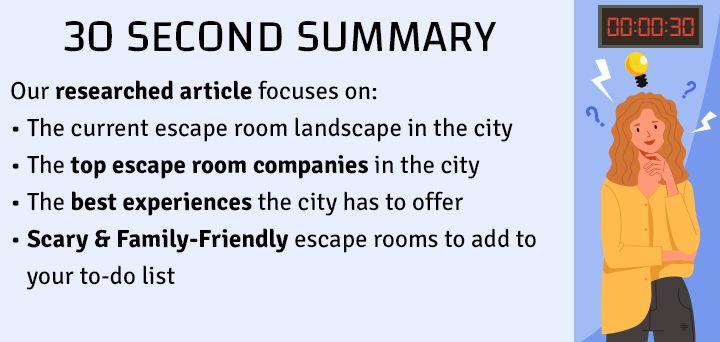 Stunning architecture, jazz music, and deep dish pizzas have always attracted travelers to the city of Chicago. Recently, the emerging escape games in the city have also started captivating the thrill-seekers.
Chicago houses 200+ unique escape games that allow players to become everything from a scientist to a spy.
We have compiled a list of 5 top-rated escape companies and 10 amazing escape experiences you can't afford to miss the next time you're up for a great time in Memphis. We put in hours of work with research, surveys, analyzing 21000+ reviews, and reaching out to the game masters themselves to make sure we put forward unerring experiences of the escape rooms, to help you make the right choice. Make sure you stick till the end because, as they say, the best always comes last! So if you want to take your creativity and intellect for a ride, Read ahead!
Top Escape Room Companies in Chicago
Escape Rooms Downtown Chicago
Locals and tourists love downtown Chicago for its stunning skyline adorned with skyscrapers and its one-of-a-kind architecture. But what contributes to the buzz of the town are the fast-emerging escape companies serving unfiltered entertainment.
Downtown is home to numerous 5-star escape companies and avid escape enthusiasts. Unique concepts, high-quality experience, and gracious hospitality have made escape rooms in downtown Chicago the new escape room hub in Illinois. We have listed three companies that you should try out for an instant rush of adrenaline! Reserve a slot for a downtown Chicago escape room to create unforgettable memories!
Fox in a Box Chicago was established in 2015. Inspired by his own escape room experience in Europe, the owner decided to bring the concept to the city. The company offers engaging 60-minute missions that require collaboration, cooperation, and communication.
The venue of the escape company looks stunning. Plush toys of foxes are kept around the venue and are the right representation of their brand name!
They currently offer four adventures:
The Bank- You have one hour to find and steal a stash of diamonds from a central bank. Are you ready for a thrilling heist?
The Bunker- A nuclear warhead launch sequence has been initiated. Can you evade the impending doom?
The Prison- You have been wrongfully accused! Luckily, you have a window of 60 minutes to break free. Are you up for the challenge?
Zodiac- A serial killer has kidnaped you! Can you escape in 60 minutes, or will you meet a dreadful end?
Offering three thrilling escape games, Room X Escape has built a reputation in downtown Chicago! The well-integrated puzzles and technology in the games have made the escape room company a preferred choice. Rated five stars on TripAdvisor, the escape company has undoubtedly managed to win over the hearts of uncountable escape enthusiasts.
The escape games are designed to put your leadership and communication skills to the test.
The Treasure- Find the treasure in this haunted room in 60 minutes! Are you ready for a spine-chilling escapade at Room X Escape Chicago?
The Pyramid- You are stuck in an Egyptian pyramid. Stories of people bewitched by the mysteries surrounding the tomb are not new. Are you smart enough to escape?
The Castle- You are the guardians of the Holy Grail! Unfortunately, the grail has been stolen! Can you fulfill your duties in 60 minutes?
Escape House Chicago
Famous for its espionage-themed escape games, Escape House Chicago has turned escape enthusiasts into full-blown trained secret agents. With two seemingly-real plots, the escape company offers escape games suitable for rookies and experts! The games are well-designed for corporate team-building activities and for family, friends, and parties alike. The thrilling storylines at this unique escape room in downtown Chicago will keep you hooked!
Escape From Safe House- Prove that you are a capable secret agent by solving puzzles and riddles set by a mysterious company, Control!
Escape From the White House- You are locked at the White House because of an impending missile attack! Intercept the missiles to save the White House?
Choose one of the two thrilling themes and be the hero of your story!
Escape Rooms in Chicago Suburbs
Suburbs of Chicago are a relief from the bustling city because of immersive adventures that help people escape reality! Head over to an exciting escape room Chicago suburbs for a lifetime of memories!
This locally-grown escape room company offers unique adventures. Escape enthusiasts can immerse themselves in novel concepts like bending time or raiding a treehouse. The games are packed with action and thrill while being suitable for every age and perfect for small and large groups.
Bonus Fun Time Game Show Challenge- The game show's final round can help you win a huge prize. But trouble has managed to find you! Will you head back with a bag full of money?
The Time Keeper's Trapped- An evil-doer is bending time! Your task is to free the timekeeper at the lab of the Official Interplanetary Timekeeper.
The Treehouse Raid at Fort Knocks- Scour the hideaway of the thug who has stolen your valuables! The hideout is upon a treehouse. Muster all your strength because this isn't a time to be afraid of heights.
Ghost in The Graveyard- Uncover the haunting mystery of Resurrection Memorial Cemetery to save this beloved memorial from closing down forever.
Mindtrap Escape Room
Mindtrap Escape Room has emerged as one of the widely-loved escape companies in the suburbs. The leading international newspaper, USA Today, recognized this company among the Top 10 Escape Rooms in America. Their escape adventures are centered around observational and critical-thinking skills.
Their expansive facility houses an ax-throwing game and exciting escape rooms. The games that they currently offer are:
Storm Surge: You are tiding over difficult seas! Your ship is on its last legs because of the heavy storm. Can you escape to the nearest island in 60 minutes?
Locked-Up Supermax: You have been put behind bars for a crime you didn't commit! Luckily, you have 60 minutes to escape. Can you break free?
The Collector: You wake up in a house of horrors! The Collector wants to put your group to the ultimate escape challenge, failing which you will be trapped in the chamber forever.
Doctor Death: You and your group set out to explore an abandoned medical center. But now you're trapped! Can you escape before the deranged doctor arrives?
Pharaoh's Chamber: You are inside a magnificent ancient tomb! Your task is to find the scarab in 60 minutes before you're trapped forever!
Best Escape Rooms in Chicago
For over two centuries now, the temptations of gold have lured mobs to the hills of Northern California. Everyone wants to run into a pile of shiny metal. No one was as fascinated by it as Clyde Hamilton, a gold prospector whose greed knows no bounds! Clyde's greed helped him take up gambling, and he became an addict. Consequently, he made too many bets with the wrong crowd, and now he's gone missing!
You've received a tip about the location of his gold stash, but the information has already spread like wildfire, and you aren't the only prospect coming for the gold stash. The hoard is hidden in a deserted cabin! If you succeed, you'll be walking out with pockets full of gold!
Player Review
"Had such a fun time playing Gold Rush! I've played all the games and am now playing them for a second time! It's fun playing for the second time because I noticed even more details than the first time! Highly recommend this activity! Fun things to do in Chicago for all ages! Also, the game continues to be high quality and well maintained!"- Kathryn (Facebook)
Do you have what it takes to conquer this thrilling escape room game Chicago?
This escape room experience will take you back in time! Mr. Fox, the most notorious spy of the time, has decided to go rogue. As it turns out, he has been working for both the USA and the USSR all along! Now suddenly, he has gone missing, and his bunker has been infiltrated. The infiltrators have set in motion a nuclear missile launch sequence that can destroy the planet! You and your team must abort the launch at all costs!
This experience will take you back to the 1970s, right admits the cold war. This room has a very retro spy movie aesthetic. If you're a fan of the old James Bond movies, you'll love the setting. The riddles are challenging, and your team will have the opportunity to work together. Complete the special ops mission to find the nuclear launch codes and disable the sequence before it's too late.
Player Review
"This was my second Room Escape, and it was amazing! I went in a group of five people, and we played bunker. It certainly proved to be challenging, and it required great teamwork. I would recommend this kind of fun to anyone willing to experience new things, and a new way of thinking while being challenged by clues and riddles."- Jade (TripAdvisor)
This fox in a box Chicago escape room experience will take you back to the cold war. The times are tense, and you must keep your wits about you, make sure you don't break under stress!
You and your mates will enter this experience as a group of ace larcenists! You just received a tip that a central bank's general manager is holding a sizeable wealth of diamonds in his office safe. Being the ingenious burglar, you have found a way to disable the vault security system! In the darkest hours, you have sneaked in and deactivated the alarm systems for precisely 60 minutes.
This is your chance to rob a bank with your friends! The level of attention to detail will leave you amazed. Let out your vices and crack the safe, which holds riches beyond your wildest dreams. Be sure you make it out on time, or else you'll have to spend the rest of your years behind bars.
Player Review
"The Bank was great. The whole room is dark, and you have to search for clues with flashlights. We got into the safe with four minutes to spare; it was exhilarating. I loved the layout of the room; it was very creative. I would definitely come back here! It's a very fun time, and they aren't kidding about this activity being much better sober. You need your wits about you."-Veronika (yelp)
This escape room in Chicago experience is the closest thing to robbing a bank you will ever experience without ending up in jail!
Embark on a space adventure as your spaceship thrusters propel you to Mars! Everything was going well, but your spaceship just experienced significant damage during the landing process. To make matters worse, a fatal amount of cosmic radiation seems to be heading your way! If this radiation hits the ship, the whole control system will be annihilated!
This immersive escape room has been designed as a spaceship from Star Wars movies. You and your fellow astronauts have precisely 60 minutes to repair and take off if you want to flee from the cosmic radiation. Will you succeed and be on your way back, or will you fail and lose your last chance to make your way back to Earth? If you're a fan of space room escape adventures, you can't afford to pass up this one!
Player Review
"My first escape room and it definitely exceeded my high expectations! I did Mission Mars for my birthday this weekend with a room full of my friends. We all had a blast and it was very exciting each time we solved each step. The puzzles are dynamic and challenging but very fun to solve. We escaped too!"- Hayley (Google)
This escape room in Chicago experience will take you on a space adventure to Mars!
You have been recently recruited as a new secret service agent. You were still learning the White House security details when a missile aimed directly at the White House was launched! You and your fellow agents have an hour to decipher the clues scattered through the escape room and locate the codes to launch missile interceptors to save the White House from the imminent calamity.
This unique escape room in Chicago has been modeled after the oval office! Great attention has been put to every detail. The game looks as if it has been moved out of the white house itself. Don't mess up this opportunity to show the whole nation how capable you are! The fate of the country's most important building is up to you!
Player Review
"I took my family visiting from Belgium to the Escape Room Chicago. They were super accommodating. We did Save the White House which was so fun. The hour goes so fast. The clues were challenging. We had to work together. Just a blast of fun. Would definitely do it again whether you are from the Chicago area or not. It's a do not miss!"- JS (TripAdvisor)
This Escape House Chicago experience will give you the unique opportunity to save the White House! Can you rise to the occasion and become the national hero?
This is a thrilling, immersive experience that will take you back into the dark ages. You and your friends will be transported back to the 14th century, where you are the royal court members and stumble upon the mystery of an evil plot against the Queen Majesty herself! And who is it that means harm to her royal highness? A group of knights! The knights have planned a coup d'etat against the throne, for they can't bring themselves to be ruled by a woman.
Unearth the diabolical plan and foil the knights who are bent on unseating the Queen. The clues that will assist your mission are hidden in a cathedral-like chamber! You and your friends must uncover the clues, break out of the room, and alert the court before the knights succeed in putting their plot to action. The fate of a monarchy rests on your shoulders!
Player Review
"This was my first experience with escape rooms near me. I went with six other people. We did the "Save the Queen" room. I found the room challenging and enjoyable. The puzzles were well thought out and the mechanics of the room were very clever. I would recommend this room to any first-time user."- Tom (TripAdvisor)
This escape room in Chicago IL will require you to save the very existence of a monarchy! Can you foil the plot against Her Royal Highness in time?
Scary Escape Rooms in Chicago
Trapped in a Room With a Zombie (Room Escape Adventure)
Get ready for a hair-raising escape room! Your life hangs on a dangling string! You are trapped in a room with a hungry zombie that wants nothing but your brains! Luckily, he is chained to a corner of the room. However, his chain grows a foot long from the wall every five minutes!
Solve challenging puzzles and riddles! Take on tasks that require collaboration and communication! Can you work together with your team to save your life?
Produced and replicated in 22 locations worldwide and featured on The Big Bang Theory, this escape room is bound to turn you into an escape enthusiast!
Player Review
"Had another opportunity to bring my executive team for an hour with the zombie. Noel and Derek were awesome! Perfect opportunity to see a team come together for one goal - communicate and work through problems/puzzles and have a FUN time doing so. I highly recommend Room Escapes and can't wait to return. I see they have an ax throwing room now - definitely on my to do list."Paul C (TripAdvisor
This game is just the right amount of scary and fun! Make a reservation at this stirring Chicago zombie escape room!
Your curious and inquisitive nature has compelled you and your friends to explore an abandoned medical center. Undoubtedly, an eerie vibe surrounds the dingy Abraham Ormerod Medical Center! However, being the brave hearts that you are, you decide to step in any way!
Now you're trapped! As you set your foot inside, the door shuts behind you! A deranged doctor, Doctor Death, is rumored to own the abandoned center! Can you escape his madness in 60 minutes?
Player Review
"As 25 game Veterans this is hands down the best place we have visited. Naturally we did all their games back to back. Doctor Death is the best! It's super scary the room is huge too. It was like experiencing your first game all over again but better! The staff are very friendly and really cool people."Arlen P (TripAdvisor)
This scary escape room Chicago has live actors that elevate the experience as well as the horror-level! If you are afraid of being scared out-of-your-wits, you can opt not to play with the actors!
Kid/Family Friendly Escape Rooms In Chicago
Every family loves a fun game show that they can watch together on the weekend! Luckily, at Escape Factor, you not only get a chance at being on a live game show, but you have also made it to the final round!
But this is not a classic trivia game show! Trouble has managed to find you as bizarre events have crushed your dreams of winning! You must work together as a family to win the coveted game show!
This game is a delight for both kids and adults!
Player Review
"Very unique and detailed rooms. Lots of design and detail with these....wow! Still can't get over how awesome the puzzles were. The Gameshow room was perfect. I've never seen anything like it. Good job to the owners!"Cynthia L (TripAdvisor)
This escape game is perfect for families looking for quality bonding time! Book a room for this family friendly escape room Chicago!
This game will make your kid feel like an absolute superhero!
Your usual CTA commute has gone wrong! You must stop the train to save the city from the impending disaster!
A maniac has taken over the Rail Car controls and is steering it right towards the Fractal Headquarters! The lives of the passengers on the train and in the city now lie in your hands! Are you up for the challenge?
With its detailed set, the game imitates a real Rail Car that guarantees an immersive experience. The difficulty level of the game is also customizable as per the young minds in your groups.
Player Review
"We did the rail car. There were 5 of us in the group, 3 adults and 2 teens (13 and 15). The kids really enjoyed the experience and the puzzles were appropriate for their skill level. They actually solved many of the puzzles before us!"Andrew D (TripAdvisor)
This kid friendly escape room Chicago is bound to make you feel like a family of The Incredibles! Be the saviors of the city at Escape Artistry Chicago!
Do you agree with our list? Engaged in any of these experiences? Share your thoughts and opinions in the comments section down below. If you believe we missed out on any great experiences, share your suggestions, we'll make sure to consider them!