Best Escape Rooms in Washington!
Top 10 Escape Room Experiences in Washington! We've included all kinds of experiences in our list, from horror and fantasy themed to family friendly.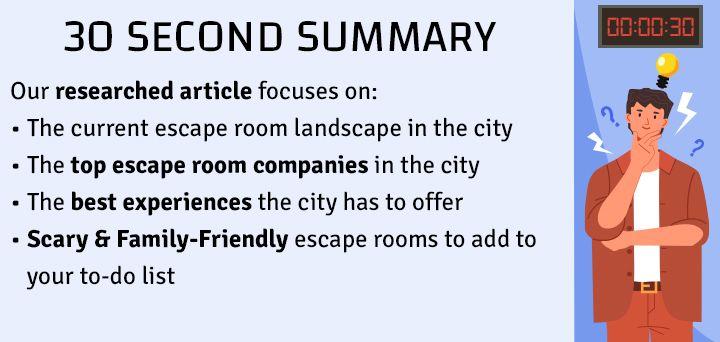 Escape rooms have taken the gaming experience up a notch. Since their emergence in the States in 2013, these escape rooms are popular for transporting the players to an alternate reality. Washington houses 80+ escape experiences. Players are truly delighted by immersive settings, thrilling storylines, and challenging puzzles that the escape games effortlessly integrate.
We have compiled a list of 5 top-rated escape companies and 6 amazing escape room experiences you can't afford to miss the next time you are out and about in Washington. We put in hours of work with research, surveys, analyzing 6000+ reviews, and reaching out to the game masters themselves to make sure we put forward unerring experiences of the escape rooms, to help you make the right choice. Make sure you stick till the end because, as they say, the best always comes last! So if you want to take your creativity and intellect for a ride, read further!
Top Escape Room Companies in Washington
Room Escape DC was established in 2015. The escape company offers games that are similar to action movies like National Treasure and the DaVinci Code. The players get a chance to be a part of intense, fun, and innovative escape games. They describe themselves as the perfect place for parties, night out with friends, work events, and date nights.
The establishment that houses these thrilling escape rooms in Washington DC is the largest escape room on the East Coast. A small gift shop is also set up at the establishment so that players can take the thrill of challenging puzzles home.
Here are the games you can enjoy:
Survive The Joker's Trap: An infamous criminal, Joker has tricked your team and trapped you in his basement and hidden a bomb! Can you escape in 60 minutes?
Save The White House II: Hackers have taken control of the nuclear arsenal and launched a series of attacks. Your task is to disarm the attack in 60 minutes.1960: History of the Future: Travel back to the past to destroy the machine threatening humankind in the present! You have 60 minutes.
2233: Evil A.I.: Travel to the year 2233 to disable an A.I. that has taken control of nuclear arsenals. You have 60 minutes to save the world.
The Frightful Feast: You are locked in a cell where three monsters plan to eat you up for dinner. Can you escape in 60 minutes?
Molly's Horror Room: As a part of the Department of Paranormal Investigations, investigate Molly's room and discover the mystery behind the strange happenings.
The Cure: You have been exposed to a deadly virus because you stepped inside a deserted hospital. Can you devise a cure in 60 minutes to save your life?
Bowl Voyage: You are a fish in the aquarium of a rare fish collector. He plans to give his noisy and rowdy granddaughter a fish from his prized collection. Find a way to escape before you fall into the clutches of this raucous girl.
Escape From Venus II: Destroy an asteroid that is about to collide with Earth! Can you save the planet in 60 minutes?
Insomnia Escape Room DC was established in 2015. The escape company offers both real-life escape rooms and virtual reality escape games. One of their escape games, The Oblivion, was the first game on the East Coast to have virtual reality elements. Therefore, the players get to indulge in immersive adventures at Insomnia Escape Rooms. They were included among the Top 10 Best Escape Rooms by the USA today.
Here are the fun breakout games you can enjoy:
Dungeon Things: Travel back in time to uncover the mystery of a friend gone missing and the enigma of the strange town of Lindale. Hurry! You have 60 minutes.
The Mafia: It is the year 1933 and the days of Prohibition. Here's your chance to enter a discreet speakeasy and change the course of history.
The Alchemist: Step inside a mystical and eerie library in D.C. Can you escape the enigmatic room in 60 minutes?
Oblivion: Investigate the disappearance of a scientist in a lab controlled by Artificial Intelligence. Get ready to solve Virtual Reality puzzles!
The Patient: Uncover the mystery at the strange St. Elizabeth Psychiatric Hospital. You have 60 minutes.
Big Escape Rooms offers thrilling escape games that are fun for friends, family, coworkers, and team-building events. Their games transport the players to another reality consumed by adventure and excitement. Games at their locations are designed and constructed professionally and guarantee immersion. Every venue of the escape company also has an event space with the inclusion of food and drinks.
Here are the games you can enjoy at the venue:
Outbreak: Formulate the antidote to a deadly virus. You have 60 minutes to save humankind from being wiped off Earth.
Clown: Escape from the clutches of a deranged clown! You have 60 minutes to save your life.
Pharaoh: Dr. Jones disappeared from the museum where he was researching on a merciless pharaoh. Find out the mystery behind his disappearance in 60 minutes.
Basketball: You are trapped in the locker room, and the basketball match begins in 60 minutes. Find the hidden key to escape!
A Game of Rooms was established in 2016. The escape company offers fun and immersive escape games that are an excellent choice for celebrating birthdays, corporate team-building events, or casual friends' night out. The escape company has received tremendous positive reviews from players on trusted websites.
Here are the adventures you can choose from at the venue:
Escape Detention: You were caught selling test answers to your schoolmates. Can you escape detention in 60 minutes?
Cabin Fever: An avalanche warning has been issued, and you have taken shelter in a cabin. Can you escape nature's fury in 60 minutes?
Prison Break: You were caught robbing a bank! Escape the prison in 60 minutes.
Escape Artist DC was established in 2015. The escape company offers real-life, fun, and interactive escape room adventures. They focus on exceptional storytelling and gripping narratives, which makes them a popular choice. Their puzzles challenge visual, spatial, and analytical abilities that contribute to a fun yet challenging escapade.
Here are the thrilling escape rooms in DC area that you can enjoy:
House of Pawns: Tiptoe inside a Presidential candidate's office to uncover the ugly truth about their campaign. You have 60 minutes!
Gallery Heist: A painting has gone missing! Recover the picture, identify the thief, and find a way out because you have been trapped accidentally!
Night At The Museum: You have torn a precious painting while partying inside the empty museum. Restore the artwork before your boss arrives in 60 minutes.
Best Escape Rooms in Washington
Outbreak: Big Escape Rooms
The world is in ruins as the streets are crowded by sinister creatures hungry for human flesh. The governments have fallen, armies devoured, and humanity is on the brink of extinction. How did it get to this? What happened? A few months back, a deadly virus was released into the air. The first few victims were enough to trigger fear in people's hearts. The victims started craving for flesh, lost all sense of humanity, and turned into the walking dead!
Scientists from all over the world have been trying to develop an antidote to battle the virus. The number of victims has increased exponentially, and most of the population has turned into zombies. You and your team are a group of scientists researching this virus ever since it was released, but you haven't made much progress.
While you were in your lab working on the antidote, a mob of zombies attacked the place! They are now trying to break into the facility! You have sixty minutes to find a cure for this virus if you wish to save yourself as well as the rest of humanity.
Player Review
"Our group of 4 did 'Outbreak'. The crew and the Game Master were awesome and super enthusiastic - they even dressed up and played a part in the story. Even when we were stuck, we liked how the G.M. did not give us clues unless we specifically asked for help. When time ran out, the G.M. came in and explained all the remaining steps before we left. Would return again!" Nathan (TripAdvisor)
This escape room in Washington will have you sweating with fear as the zombies close in on you!
You were planning on heading to the library to grab a few books. As you were looking for your books, you noticed something you had never seen before! Right in the middle of the brick wall by the library's corner was an unmarked wooden door with huge windows on each side.
You and your friends decided to check out what's behind the door. Everyone was taken aback as soon as they stepped into the room. The room had bookshelves piled with old books and gold details all over the place! Old chandeliers hung from the roof covered in cobwebs.
As you were looking around, you realized you had entered an alchemists study! You decide to leave, but the door won't budge! Now you must find a way to break out of the chambers before the alchemist returns. You have sixty minutes to make your escape!
Player Review
"I will not give away any secrets about our time spent in the Alchemist room, other than to say out experience outstanding from start to finish. The staff was both helpful and professional at all times. We had four people in our group and I think that is about the perfect size based on the space in the room and working on the clues. The staff is always there to assist you as needed." David (Yelp)
This escape room in Washington DC will take you to a whole another world full of magic and alchemy, but you must find your way back before you're trapped in there forever!
Swaddled away in a hidden alley somewhere in D.C.'s remote areas, runs a speakeasy that boasts some of the most notorious clientele in the whole city. It is also the meeting place of choice for the most infamous crime family in D.C., the Cottone Clan. They have connections with all prominent politicians, may it be at the state or federal level!
You and your team of secret agents have been instructed to infiltrate the establishment as regular customers. A very high ranking politician has hired you to find and retrieve the documents that might link him to the mafia, the infamous 'Cosa Nostra.' You have successfully managed to get into the place, but you won't have time to lunge back and sip on beer as you must work to get some information out of the bartenders before they get too suspicious.
You have sixty minutes to successfully locate the documents and break out of the establishment with them!
Player Review
"We had made a reservation in advance and did the mafia room. Overall we really enjoyed this room and the clues kept us engaged the entire time. We ended up escaping before the time went out even though we made a lot of mistakes. Overall it's a great place to go and a fun activity to do. We'll definitely be back." Rachel (Yelp)
This Washington escape room will have you infiltrate a hidden bar! Don't get sidetracked though, you must retrieve the documents within an hour, or you shall face dire consequences!
The largest cruise to ever navigate through the oceans, Titanic, has been the only topic of everyone's conversation. Finally, you set sail, and as you enter the majestic ship, you're appalled by its magnificence and beauty. May it be restaurants, ballrooms, or even pubs, this cruise has it all.
One fine evening you were lounging in a stateroom when suddenly you heard a loud noise as if the heavens had stirred the oceans. Titanic had hit an iceberg and started to sink!
You tried getting to a lifeboat, but it turns out you've been locked in the room! You have sixty minutes to figure out a way to escape or scale the depths of the ocean along with the ship!
Player Review
"Did the Titanic room and it was a blast! Second time doing an Escape room and this time we got out! We did need a decent amount of help along the way, but we were pretty good. The room was way bigger than I thought it would be and the clues were pretty awesome as well. The staff were friendly and quick. I'll come back for sure!" Abbas (Yelp)
This breakout room will bring back nostalgic memories from the movie. Can you overcome the situation, or will you share your fate with Jack?
Scary Escape Rooms in Washington
Clown
People usually go to the circus to see stunning performances, experience something out of the ordinary, and have a great time. But lately, the visitors of one particular circus have been paying a very steep price for the experience. Clueless people who went in expecting a great show end up paying with their lives! Once a very famous clown, Boris, has gone insane! He travels alone and lures innocent people, promising them a spectacular show before he murders them.
It all began in the world-famous Magento's circus. Boris used to be the most famous act with people flocking from all over the world to see him. For years, he had been pretending to be happy and continued with his act, but something in him snapped one day. He murdered everyone in the circus and went on the road looking for new victims. Now he works alone, playing games with people before ending their lives.
You are one of those unlucky victims! You have been trapped in a room along with a bunch of people. You have sixty minutes to figure out a way to beat Boris at his own game.
Player Review
"I booked the clown escape room for my boyfriends 22nd birthday celebration and our group ended up being 10 people. The staff was very friendly and helpful and helped us get into the mood for the mission. The only thing I would say is that I wish the 'scary clown' theme carried more into the room because we were expecting it to be a little more frightening and intense, but it was still a ton of fun!" Bailey (TripAdvisor)
This room escape will have you break a cold sweat as the bloodthirsty clown comes after your life!
Kids/Family Friendly Escape Rooms in Washington
You and your friends are a group of explorers. The thrill of setting foot on lands that haven't been traveled on for years gives you a sense of achievement! While you were on an adventure through the South American Jungle, you stumble upon an old hidden temple. The structure seemed to have been abandoned for quite a while.
There are local legends regarding the temple. It is said that inside the temple grounds is a hidden tomb that has a golden treasure with value beyond comprehension. The fable ignited your greed, so you and your friends decided to find the treasure. As you entered the temple, the door closed behind you, trapping you in the ruins of a centuries-old temple.
But things aren't as simple as grabbing the treasure and getting out. The whole place has been set up with traps and puzzles to ensure that the people who enter the temple don't leave! You have sixty minutes to figure out the mysteries and breaking out of the place.
Player Review
"We had a lot of fun doing The Lost Temple. It was very interactive, and the young man who took us to the room was very personable and humorous. We had a little trouble getting started, but after getting a clue we were good to go. You only get a certain number of clues, and they are not direct. They tend to be riddles too, so you have to be strategic. We all had a lot of fun!" Clark (TripAdvisor)
This escape room in Washington will take you on an adventure looking for treasure through the ruins of an ancient temple.